Last weekend IF: Gathering again rocked Austin and thousands of women around the world. Last year I reviewed the Gathering
here
. This year, whether you attended IF: or not, I invite you to roll out the IF: experience each month around your own
IF: Table
–6 women, 4 questions, 2 hours.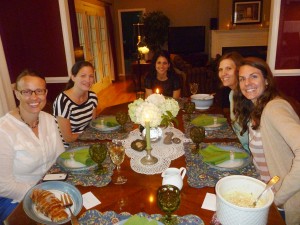 IF: God is real…"Take the land!" by simply setting a table. In his famous description of the armor of God in Ephesians 6 I really think that the apostle Paul should have included a knife and a fork—so powerful is the opportunity for bringing God's kingdom at a dinner table.
In today's culture where we feel stressed by work and caregiving and meals tend to be hurried or ignored, where we are painfully aware that our table pales beside HGTV, it takes a bold stroke of Spirit-led intentionality to make space for cooking and serving. But the rewards are rich.