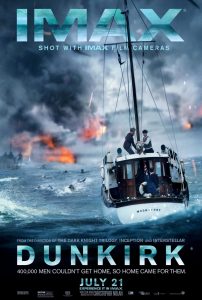 Yesterday evening we went to see Chris Nolan's new film, Dunkirk, where the British and French armies were forced to pull back to the beaches in the face of Hitler's army.  The movie powerfully shows the terror of 338,ooo men pinned down on the beach waiting and trying to evacuate to England across the channel. Overhead the Luftwaffe bombed the hospital ships and destroyers loaded with men and strafed those still on the beach or in the water.
But the movie leaves out much of the larger story. Right when they had the Allies in their tank sites, the German army halted their advance for three days.  They believed the Allies were doomed and they took the liberty to consolidate their position. A British officer cabled home a curious message that signified nothing to the Germans, but dire distress to the British populace who were familiar with the King James Version of the Bible: "But if not…"
The message quoted Shadrach, Meshach and Abednego as they faced the furnace of the Babylonian king (Daniel 3:17-18: "Our God whom we serve is able to deliver us from the fiery furnace, and he will deliver us out of thine hand, O king. But if not, let it be known unto thee, O king, that we will not serve thy gods, nor worship the golden image which thou hast set up."
The troops faced a fiery ordeal. They needed a miracle.