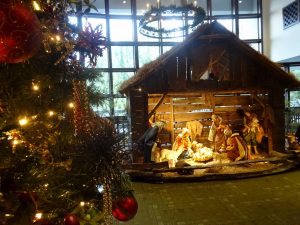 Angels, shepherds, wise men, Jesus lying in a manger–we know the story so well. But it's been sweetened up, romanticized, censored, stripped of its violence and desperation through the years. It's good to go back to the original sources and renew our appreciation of the extreme drama of the story.
Here are 9 questions to challenge you and your family to worship a God who would orchestrate such an amazing story to reconcile us to himself. (You might enjoy using one each night as a conversation starter at dinner. You can even include these questions in a larger game of Advanced Christmas Trivia to share at Christmas gatherings with additional categories like music and history using this free download.)
1. What four women are mentioned in Matthew's genealogy of Jesus?
2. In what way does the Christmas story include murder?
3. Besides "being born in Bethlehem," what is one other Old Testament prophecy fulfilled in the Christmas story?
4. Which of these Christmas Story events is not in chronological order? Gabriel announces Jesus' birth, Caesar Augustus' decree, Joseph and Mary travel to Bethlehem, Mary gives birth to Jesus, angels appear to shepherds, shepherds find Jesus in a manger, Mary and Joseph go to Jerusalem to offer a temple sacrifice for their firstborn son, the magi follow the star to find Jesus,  Herod orders all baby boys 2 and under in Bethlehem to be slaughtered, Joseph and Mary flee to Egypt.
5.In Luke's words, how many angels appeared to the shepherds?
6. In addition to these angels, and beginning with 
Luke 1
, how many times did angels appear to help guide the unfolding events of the Christmas story?
7. According to the Bible, how many wise men came to worship Jesus?
8. What Hebrew prophet may have given the wise men the idea to watch for Jesus?
9. According to Simeon's prophecy, what two things was the child Jesus appointed for?
Click through for answers