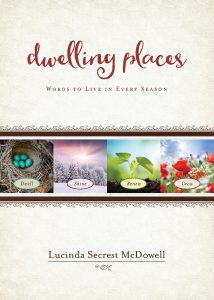 August is traditionally a time when many of us pull out our calendars, prayer journals and Bibles – asking God to show us where to invest our time and energies this fall. To help provide clarity, today's guest post is by Lucinda Secrest McDowell, author of 13 books including Dwelling Places which was just awarded the Christian Retailing Best Award for Devotional 2017  (voted by the bookselling/publishing industry professionals).  Like my book Faith and Culture,  Dwelling Places is rich with sturdy content for the mind (a devo with footnotes!) and deep reflections for the heart. May Cindy's words challenge you to say yes and no wisely to the opportunities for impact in the months ahead:
She could not have been more ordinary.
Gladys, was also a poor student and had quit school by age fourteen. She grew up to be a London parlor maid with few prospects. But then God got a hold of her heart and after hearing about the needs in China, she was determined to serve Him there.
Only no mission board would accept her.