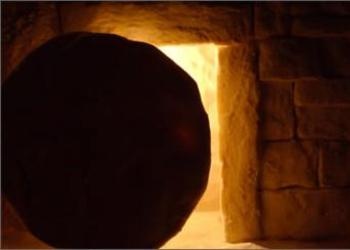 John's mind raced. Mary's words, tumbling and breathless, had shattered the pictures of pain that enveloped him. "An empty tomb…no guards in sight…" Peter's footsteps fell farther behind.  He couldn't hold up or slow down. He wiped his nose with his hand, his eyes with his sleeve.
His mind grasped at dangling threads of past conversations–"must suffer," "three days"–and traced them into tangles of things to come. He picked at the tangles but could not unravel them. Around him the world moved in slow motion…yawning…stretching…stirring coals to life. Blinking faces started at the speed and intensity of the figure sprinting past.
From the hedge at the garden gate a rustle of wings took to flight. The path dipped down through the rows of grapevines, past the wine press. Around a final corner, the tomb, bathed in rosy light, matched Mary's picture exactly. No stone. No guards.