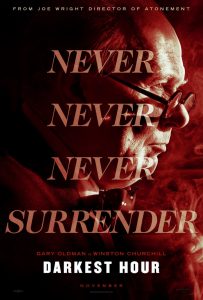 When the Christmas dust settles and it's time for a holiday outing, Darkest Hour is that rare film that not only entertains but inspires. Yes, I laughed at the good comedic writing and delivery when my girlfriends drug me to Thor Ragnarok. But our culture offers so much cotton candy and not too many feasts of rich food.
Darkest Hour explores the life and death decision Winston Churchill faced as soon as he became prime minister: whether to negotiate for peace with Hitler and his formidable war machine or prepare to fight an enemy that was gobbling up more of Europe every day they deliberated.
Gary Oldham is the Meryl Streep of male actors–he totally disappears into his characters. Two hundred hours in the makeup chair for this movie and he IS Churchill. The campy villain of The Fifth Element has pretty much disappeared. Oldham plays Churchill with plenty of cheek and bravado, but also as the intellectually gifted statesman, Inspirer in Chief and grand master of the King's English that he was. He may win an Academy Award for this performance.