Free download on Today's Modern to Postmodern Culture Shift
Download Modern to Postmodern culture shift PDF
What does "postmodern" mean? Why is our broader culture shifting from modern to postmodern? What does that mean for our view of history? Our view of truth and certainty? Articles by Lael from Faith and Culture: The Guide to a Culture Shaped by Faith by Kelly Monroe Kullberg and Lael Arrington (2011, Zondervan) and from Bible.org, including, "Is Postmodernism a Good Thing or a Bad Thing?"
Free download of Advanced Christmas Trivia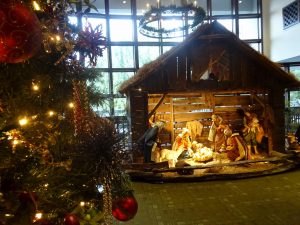 Know your Bible? Enjoy culture and history? This game for teens and up will add some fun, sparkle and maybe sparks to your Christmas gathering.  Seven questions in each of five categories: Music, Bible, Literature/Movies/Theater, History, and Miscellaneous challenge you to think and learn. Not for beginners!
Free download of "About Donkeys and Elephants: Being good stewards of our dual citizenship"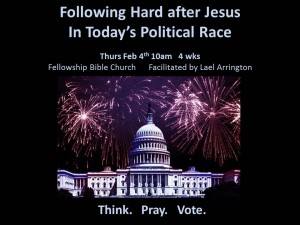 Worldproofing Donkeys Elephants PDF
This final chapter from my book Worldpoofing Your Kids focuses not on parties or candidates, but on the kinds of Biblical values that shape our politics (freedoms, rights, justice, mercy).  We'll use it as a springboard for discussion for our February 2016 study, Following Hard after Jesus in Today's Political Race.
Free download of Pilgrims Progress Today worldview study guide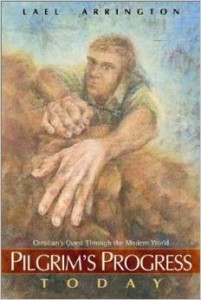 PPT Worldview Discussion Guide 2
Help your children and students learn the basics of a Christian Worldview in the context of a compelling story
We are hard-wired from the factory to learn from stories, allegories and metaphors. With the book and study guide you can open up Bunyan's classic tale to your students and children. You'll have an engaging story to help them understand and articulate answers to worldview questions such as What is real and good? Who is God? Who are we ? Where have we come from? Where are we going? And what are we supposed to be doing in between?  For information on the book read more here.
"When I first read Pilgrim's Progress Today, I was thrilled and excited to share it with someone…anyone.  I told my husband after each chapter that I wish I could require all teens to read it, and I shared with my husband the impact the book had on me chapter by chapter.  I have taught Bunyan's book for the past two years to my seniors, and have been frustrated with their lack of understanding and application of Christian's experiences into their everyday lives.  Pilgrim's Progress Today is the perfect solution to my dilemma:  I can assign it as part of the senior curriculum in English class. I now have an avenue to teach a brilliant allegory, and the students will be able to relate beautifully to a high-tech, athletic protagonist.  This book is truly an answer to prayer.
"I certainly endorse Pilgrim's Progress Today as a piece of literary excellence as well as a book of Biblical Truth and a powerful evangelistic tool."–Julie Williams, English Department Chair, Bay Area Christian School, League City, Texas