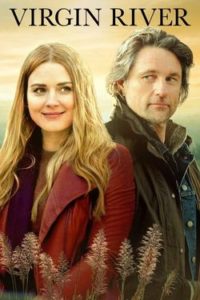 Virgin River is a down comforter on a cold pandemic night kind of TV series that invites you to find a cozy spot and wrap the warmth and softness of its love story and small town around you.
Unlike a comforter, it has some serious edges and romantic tension, but nothing that seems headed over a cliff. Even so, as the Netflix writers take Robyn Carr's 20+ book series and elevate it to be as appealing as possible to a general audience of non-romance readers, they inevitably enfold some of God's greatest lessons about love into their script.
Some reviewers accuse the show of being too traditional and cliched–too "Hallmarky." I disagree. Yes it's kinda soapy, but still in a different class. And to my mind it's success simply proves that Jesus has the best information on how to have good relationships. When the second season was released last November it zoomed to #1, displacing both The Crown and Queen's Gambit.