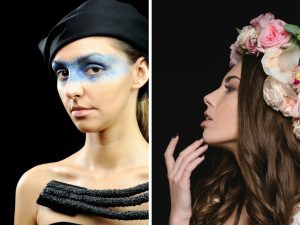 No woman I know wants to look unattractive. As fall ushers in sweater weather, we're in the stores seeking styles and colors that make us feel good. For many of us that means finding clothes that are new and trendy. (Long cardigans!) Or comfortable. (Joggers for millions who never jog!) Or even beautiful, although beautiful is more elusive.
Of all the places we might expect to find beauty, we've come to expect less and less of it at fashion shows. Or the pages of fashion mags. Watch the shows online or pick up a copy of Vogue magazine and I have rarely seen pictures of so many women who look like they absolutely do not feel good.
They look bored. Depressed. Starving. Androgynous. They look like Dr. Oz has diagnosed them with anhedonia– the inability to experience pleasure.
But then, if I had to wear what they had to wear, I would probably feel (or not feel) the same way. What is going on?