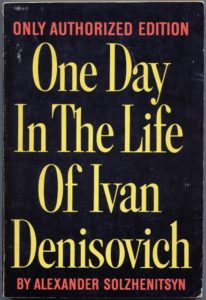 I've been feeling a bit like a prisoner in my own home lately. And you? Tired of reading article..article…article…article…, I knew I needed a shot of bigger perspective.
So I picked up a book I've been meaning to read for a long time–One Day in the Life of Ivan Denisovich.
Written by Russian Nobel Prize winner Alexander Solzhenitsyn and based on his own experience in the Gulag, Siberia's network of "corrective labor camps," I thought it might afford me a bit of a reality check on what it really means to feel like a prisoner.
And it has. But not by pounding me with horrific word pictures of torture, despair and madness.
Rather, with the artistry of understatement, irony and even wit, One Day, while written in big print and prison slang, offers great thoughts and deep meanings that gently percolate in my mind throughout the day–so different from the jangle of texts, Facebook posts and articles that leave us feeling over-stimulated and unfocused.
One Day is an easy read with a psychologically gripping ending I never saw coming. It makes me think. And give thanks.
Researching it a little more online, I discovered that when a movie based on the book was released in '76, the narrator of the trailer hooked me with exactly what I was looking for: "This movie will make you feel better about your life." So will the book. Much better.