Announcements
This page contains the resources that I have found useful in my personal and professional life. Admittedly, it is an eclectic list. It contains everything from quotes and books that I like to podcasts, videos, and slideshows.
If you don't want to scroll through the entire list, you can click on one of the links below and filter the resources by specific category.
I will update this list as I discover new resources. If you have a resource you think I should add, please email me.
Join us for an 8-week study at Fellowship Bible Church, Columbia, SC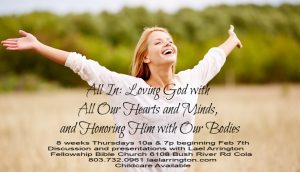 More info on this page
Have you discovered The Stream?
This daily news and opinion digest produced by leading voices from Breakpoint and Discovery Institute requested a reprint of Thursday's Wilberforce post. So appreciate the insightful writing, respectful tone and Christian worldview. Just launched a few months ago. I'm subscribing and setting as my browser home page. I invite you to join me.