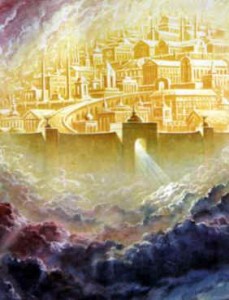 With this week's release of the movie 90 Minutes in Heaven, heaven is all over social media and the news. I'll review the movie Tuesday, but today I want to ask you a more important question: Do you think that the "main point" of the Bible and salvation is escaping hell and going to heaven?
I grew up with the Wordless Book—one page black for sin, one red for Christ's blood, one white for being cleansed of sin, one gold for going to heaven, one green for growing. It is a strategy often used in children's ministry to explain the salvation message. It has no doubt been helpful to bring many to Christ.
But I think in my own life that gospel message and the children's ministry I was a part of nurtured a "Salvation is a ticket to heaven" mentality. The main thing was to get rid of my sin, escape hell and get to heaven. I think there were some adults in my life who were trying to cast a vision of being reconciled to God so I could know him, so I could love and enjoy him more. But all the heaven talk kind of drowned it out.
Being a Christian became primarily about the destination, and then learning God's word, and then obeying– black, red, white, gold and green. And somewhere after that, the relationship and intimacy. Anyone else growing up in a Christian home or church have that experience?
When I was twenty-nine I was diagnosed with rheumatoid arthritis. As I tried to live in a world of shattered dreams, chronic pain and limited mobility I lived`more and more from duty and resignation. In his mercy, God met me right where I was, as he always does, and drew me into the intimacy and joy that I was missing. I chronicled that journey in my book Godsight: Renewing the Eyes of Our Heart.
I discovered that there was a name for what I had experienced: "Destination Theology." I decided to re-read the book of Acts with careful attention to the way Jesus' disciples presented the gospel. What I found there surprised me.