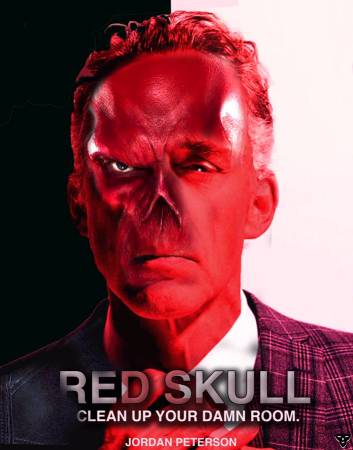 Imagine if C.S. Lewis had podcast his journey to faith, and millions of unbelievers had listened in. Imagine if the forces of secular universities, progressive politics and media had targeted him to take him out before he could cross the line of faith and bring thousands with him.
A similar journey by a similarly brilliant academic may be taking place right now. In the last six weeks over a million and a half people have listened to his remarkable recent podcast discussing his wrestling with conscience, suffering, meaning, and is Jesus really the Son of God?
And last week Marvel Comics took the lead to destroy him. Why Marvel Comics? Because he has a vast following among young men.
According to Marvel, Jordan Peterson, clinical psychologist and professor of psychology at Harvard and now Toronto University, is more dangerous than a Nazi. More dangerous even than Hitler. Their newly released Marvel comic, written by progressive intellectual Ta-Nehisi Coates, casts Red Skull, the super Nazi who would go where Hitler wouldn't dare, as quoting Peterson's ideas as his own. (Only Captain America could take down Red Skull and his Hail Hydra organization.)
How exactly did Peterson, neither a conservative nor a Christian, earn the wrath of Marvel and Coates?