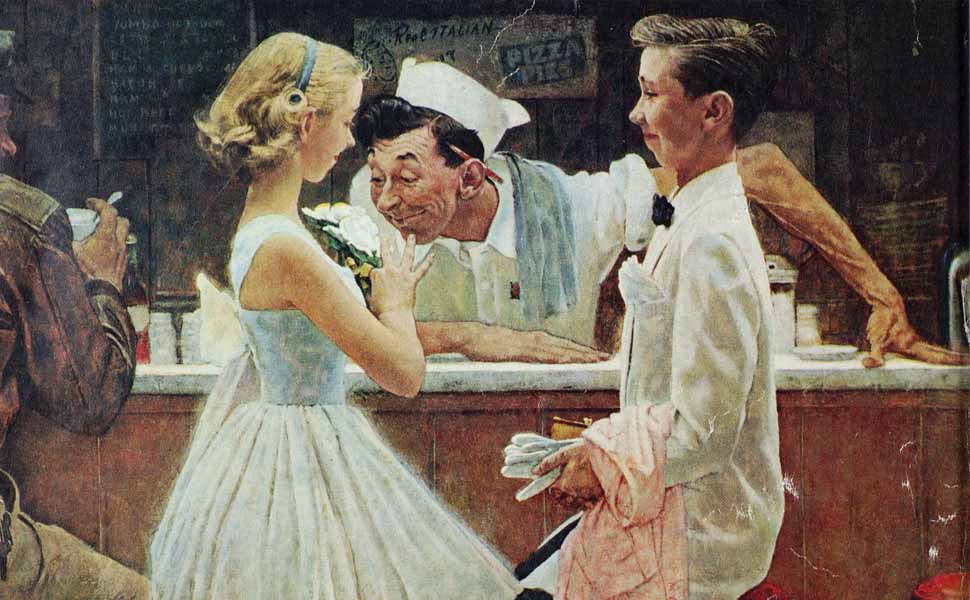 Before the "conquest of cool" Norman Rockwell celebrated good relationships, hope, kindness, trust, respect and family. As he put it, "Without thinking too much about it in specific terms, I was showing the America I knew and observed to others who might not have noticed." Yesterday we took in both the lecture on his life's work and the exhibit at the Columbia Museum of Art. His work is powerful and the world he created is richly beautiful (and fun!). I loved our walk through the archives of American optimism–so many childhood memories. But something even richer and more powerful seemed missing.
Rockwell didn't just paint pictures, he told stories. He used models as actors, directing them to assume poses and convey certain emotions and facial expressions.
In order to inject his paintings with more authenticity, energy and surprise he eventually preferred using as models his small-town New England neighbors over professionals. With a precursor to an overhead projector Rockwell would project the carefully staged photographs onto blank canvases  and then trace out the characters, costumes and props.
The excellent exhibit chronicles the sequences of many works from photographs to sketches to preliminary oils to the finished oil paintings, which were then photographed for the covers of Life, Look and Saturday Evening Post magazines.
Trained in Renaissance painting at America's finest art schools, Rockwell began his career as a magazine illustrator and perfected the art of inviting people into the glossy pages. The art critics of his day preferred the cutting edge of non-objective art, like Jackson Pollack's paint splattered canvases ("Rockwell? Oh God! He was viewed as a cornball and a square, a convenient symbol of the bourgeois values modernism sought to topple.")
The most he was ever paid for cover art, which would take several months to produce, was $7000.  But recently his stock as a great American Artist has soared as Sotheby's auctioned off his "Saying Grace" for $46 million in December 2013. Pretty good for a cornball.
A master of ironic juxtaposition, Rockwell pairs the fresh-faced young couple signing their marriage license, her on tip-toe, his arm tenderly around her waist, with the jaded county clerk, slumped in his chair by a spitoon surrounded by cigarette butts and a look that clearly says yeah, I've seen it all.
There's the family piled into the three-seater station wagon, all sunshine and exuberance, Dad straight and proud at the wheel, kids blowing big bubbles, leaning half out the window, starchy grandma looking straight ahead in the backseat. And then returning home, slumped over, energy spent, much smaller bubble, although grandma's still pretty starchy.
He shows the family doctor taking the time to listen to the "heartbeat" of his patient's doll in all seriousness and concern.  In a series of small frames he shows "A Day in the Life of a Little Girl" braiding her hair, dunking and getting dunked at the pool, sharing a cupcake and kneeling in prayer at bedtime.
There were some images you would never see in today's world, sketches for a Mass Mutual Ad that show a family in the front seat–Dad driving, Mom looking at a book with three kids and a dog beside him (where are the seat belts?!) Another run at the same idea shows Dad driving at night, his wife leaned against his shoulder, a child conked out in her lap and two more leaning into her. The husband leans slightly into his sleeping wife. Such comfort, such trust. A world where men provided and women cared for the children and all was well. (And cars were as wide as a sofa and it only cost $.19 a gallon to move them down the road.)
Rockwell painted soldiers at their machine guns, Rosie the riveter, "Wichita" linemen wrenching up their cables (I swear I could hear Glenn Campbell in the distance). Huge canvasses loaded with the dignity of work. He painted glorious homecoming hugs and a uniformed son peeling potatoes with his beaming mom. Families streaming into grandma's Christmassy home loaded with presents.
Like no other artist, Rockwell painted the major theme of life in the mid-20th Century, joyful and overcoming. Even in the painting above, if you compare it to the photograph, the prom-goers' posture is straighter, her waist is tinier and her dress fairly glows in the painting.
But what exactly is missing from Rockwell's world?
In the exhibit you can see three studies for a painting entitled "The Marriage Counselor." Husband and wife are seated on a couch outside the counselor's door. The husband, in a dark blue suit, sits ram-rod straight with a puffy eye the color of his suit. Beside him sits his wife. In one study she looks ahead, clearly put out with him. In another she looks up at him, eyes brimming with sympathy and concern. But the one that made the cover shows her looking straight ahead, a smile twitching at her lips. Because it's Rockwell, you can't help but think this might be the school girl with the black eye (and proud of it!) sitting outside the principal's office, now grown up.
Even when the subject is domestic violence whimsy prevails. We all know that life is not only about the major theme  It is shot through with a minor theme…pain, loss, suffering.
And Rockwell was personally acquainted with the reality of the minor theme. His first marriage ended in divorce. His second wife, the mother of his three sons, died young. And he lived in Stockbridge Massachusetts, not because he loved the quaintness of the town, but because his third wife struggled with depression and he struggled with bouts of depression too. And Stockbridge was home to some of America's foremost psycho-therapists.
Perhaps the great irony of Rockwell's life is that he painted and sketched his whimsical  scenes in part to pay the tab for years of therapy.
We don't know whether Rockwell decided to paint domestic violence with a light touch or if it was the magazine editor's choice. As a magazine and advertising illustrator, Rockwell was contracted to draw the major theme of Americana. His art needed to draw you inside the covers of the magazine or attract you to buy insurance or a car. Later he wrote, "For 47 years, I portrayed the best of all possible worlds – grandfathers, puppy dogs – things like that.  That kind of stuff is dead now, and I think it's about time."
Finally, in the last room of the Columbia Museum's exhibit, we see Rockwell take on the minor theme in his work. He has shed his long relationship with Life magazine, and its guideline that people of color only be shown in subservient positions, to paint for Look magazine, more focused on serious journalism, including segregation and racism. "The Problem We All Live With" shows tiny little Ruby Bridges, black skin in high contrast to her white tennies and dress, escorted by huge federal marshals to a previously all-white Louisiana grade school. On the wall behind her someone has hurled a rotten tomato that has splatted like a red exclamation mark  after the graffitied epithet "nigger."
A large canvas shows two black kids and a white cat standing in a suburban driveway beside a moving van in a curious and slightly tense face-off with three white children and a black dog. The painting invites the viewer to decide…these "New Kids in the Neighborhood"** could be your new neighbors. How will you respond?
Newsjacked right out of the June 21, 1964 headlines, "Southern Justice" shows three civil rights workers bloodied and beaten and about to murdered by the threatening shadows down the right side of the canvas. In 1968, after the assassination of Martin Luther King, riots broke out in over 100 cities across America. Deeply impacted by these urban riots Rockwell painted "Blood Brothers." Two dead young men lie side by side, one white, the other black, their blood mingling on a ghetto street.
We look at Rockwell's Americana pictures and feel the powerful warmth of family affection and pride of accomplishment. Rockwell had a way of looking at everyone with kindness and charity. We look at these paintings  in the final room of the exhibit and feel just as powerfully the reality of fear, devastation and loss.
So how did Rockwell find redemption? Where did the great optimist find hope? Not in the power of the gospel. According to a Belief.net interview given by his son, Rockwell had been "put off from going to church by draconian parents" who were "very, very strict Christians who made him do lots of things." For all his pictures of people praying Rockwell did not raise his children with any particular faith.
His faith seemed to be in the potential of the human spirit–the people he so lovingly painted. And the Golden Rule which he also so powerfully painted: "Do unto others as you would have them do unto you." To live through the disconnect between the way things ought to be and the brokenness that really is…there's therapy.
"You know, no family is really a "Norman Rockwell family," says his son.  True. Which is why we desperately need the power of the gospel. "Southern Justice" and  "Blood Brothers" show us:  the minor theme is so powerfully destructive that no appeal to the golden rule can overcome it. The gospel shows us reality: We are more weak and broken and sinful than we can imagine.
But the gospel also shows us Jesus, bearing and becoming our sin on the cross. We are more loved than we dare to believe. By faith in him we find forgiveness. We find the ultimate optimism: We are loved no matter what and one day Jesus will come for us. Until then we have the power of his presence living in us so that, by faith, we can truly love others the way we would like others to love us.
I love the beauty of Norman Rockwell's paintings. But I think the beauty of the gospel is even richer: Art and stories that portray only the major theme can become syrupy and shallow. The real depth and beauty of art and the Bible comes from portraying the power of the minor theme as well. But if all we do is sit in the minor theme, as so much of today's art and stories do, then the bleakness is unbearable.
The Bible and the gospel show us the reality of violence, cruelty and death. Of the depth of our hidden desires for control and approval and more and more stuff. But, in showing us the power of Christ's love redeeming the minor theme, it shows us a major theme even more powerful and beautiful than the beauty of Rockwell's world.
Related Link: Many Beautiful Things Movie: Why haven't we ever heard of artist Lilias Trotter?
Related Link: Contemporary Artist Makoto Fujimura inspires us to create living art out of love
Related Link: Fall Pastels, Ugly Runway Models and the Battle for Beauty
**To see Norman Rockwell's "New Kids in the Neighborhood" and thousands of other artists and images visit Artsy, whose mission is "to make all the world's artwork accessible to anyone with an internet connection."