As Christians so often we are known for the behaviors and causes we oppose. But do our Facebook friends and communities really know what we are for?
Here's part of our problem: We are told that when we give to God we should give in secret. We also want to follow Jesus, who was a portrait of humility. So…much of what Christians do to serve others flies beneath radar.  But sometimes we work as a team. And as a team leader I want to give a shout out to the team and not just tell, but show how our Community Connection Team made a difference in someone's life.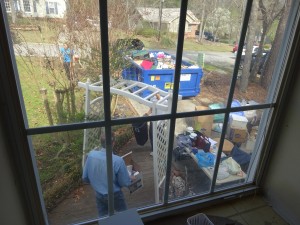 One of our team members is a physical therapist. As we considered who we wanted to help on our next Saturday of Service he gave us the name of a disabled widow who lived in the basement of her home because her leg had become so bad that she could no longer access the main floor. She wants to move to assisted living but doesn't have the help she needs to prepare her home for sale so she could make the move.
On a bright, cool Saturday morning about 25 of us gathered to help prepare this home for sale. We rented a big blue pod and began filling it with boxes of trash.