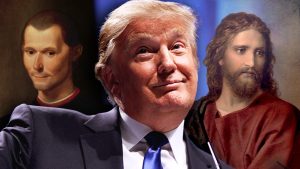 If leaders treat people with contempt, insulting and belittling them, and violating their dignity, can it ultimately serve their best interest? Can it best serve the people who follow him or her? Can leaders hit others back hard and win both power and the hearts of the people?
Donald Trump lives by the advice he dispensed in his best-selling business book The Art of the Deal: "Fight Back–always hit back against critics and adversaries, even if it looks bad." He has run his campaign under the banner of "You hit me, I hit you back twice as hard."
For example, back in August, at the first Presidential debate, Fox News anchor Megyn Kelly asked Donald Trump some pointed questions about the way he treated women. What many (most?) journalists considered a fair question Trump considered unfair and hit back hard with an unrelenting stream of negative tweets against Kelly. In January, when Fox refused to remove Kelly from moderating the Iowa debate, he dropped out and held a competing event.
On January 27th Fox News journalist Bill O'Reilly challenged Donald Trump to move past the exchange and rejoin the debate broadcast.
BILL O'REILLY: In your Christian faith, there is a very significant tenet and that's the tenet of forgiveness. I think you should forgive not only journalists who come at you in ways you don't like, but I think you should be a bigger man and say, you know what? I didn't like it and you should make that case all day long. But, I'm not going to take any action against it. You know, don't you think that's the right thing to do?
DONALD TRUMP: It probably is. But, you know it's called an eye for an eye I guess also. You can look at it that way.
O'REILLY: No, no, no, no. That's Old Testament. If you're the Christian, the eye for the eye rule goes out. Here's what it is: turning the other cheek (taps his cheek).
TRUMP: You're taking this much more seriously than I am. I'm not taking it seriously.