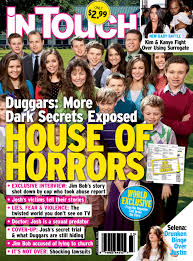 Imagine if *you* were Jim Bob or Michelle Duggar. Imagine the InTouch reporters and editors who broke the story on your son's dishonoring innocent young girls turning up at your door and asking you for a personal interview. Now imagine that you gather your tribe together and knock yourselves out to serve them dinner. And afterwards you serve up coffee and strawberry shortcake and sit down to answer at least a few of their questions.
There's a great precedent for such outrageous kindness. It's what Christians have been famous for through the ages. Consider church father Polycarp (AD 69-155). When a cohort of Roman soldiers arrived to arrest him and take him to be judged in the amphitheater in Smyrna, Polycarp calmly greeted them. Noting they must be tired, he asked them if they would like to refresh themselves with food and drink while he took the hour to pray.  They agreed and he accompanied them without protest to his death.
And then there was Jesus.
As people who want to follow Jesus we honor the image of God in everyone. We have been champions of the image of God in the unborn. Champions of the weak and dying. But we tend to fall off the wagon in between. As the heat turns up over the the Duggars, Bruce/Caitlyn Jenner and the anticipated gay marriage ruling by the Supreme Court, we get angry. We attack. We mock. We say things on Facebook that make Jesus weep. How can we champion the image of God and the common good in the weeks ahead?