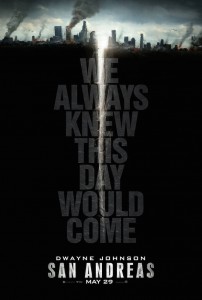 It's a disaster movie designed to be a roller coaster ride–the kind of scary fun you expect from summer blockbusters. Not quite a Spielberg roller coaster, but still, pretty intense, with a story of family reconciliation to boot.
My original title for a short post was going to be, "San Andreas: There is no thoughtful cultural commentary to offer on this movie. Just have fun."
But even insurance companies acknowledge that earthquakes are "acts of God,"  so it's natural to see a link between earthquakes and earthquake movies and God.
But first, the movie…