A speaker by speaker, song by song, verse by verse summary, with brief commentary, of Billy Graham's funeral in Charlotte, NC on March 1, 2018.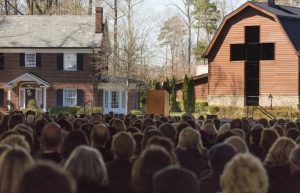 To me, it felt a little bit like the days after 9-11. The enchantment of this world was momentarily broken, and the curtain pulled back on the ultimate reality of what is good, true and beautiful. Thank you, Billy Graham, for pointing the way home in life and death.
Setting—Tent for 2,300 people positioned for the view to perfectly frame the Billy Graham library/museum, an enlarged dairy barn-styled building with a silo beside it. And to the left, the relocated dairy farm-style home in which he grew up. Barely pinkening redbud trees line a split rail fence.
It could be the cameras, but it looks like everyone is in navy. (the new black?) President Trump. Melania. The Pences. Ben Carson, N. Carolina governor. Nikki Haley. Sen. Ted Cruz. Cardinal Timothy Dolan. Max Lucado. Beth Moore. Jewish yarmulkes. Orthodox Patriarch in black headgear. A missionary to bedouin tribes  and other missionaries, unknown to us, but some of the "great ones" in God's kingdom.
Linda McCrary-Fisher sings "Until Then" to open the funeral and David Bruce, Graham's executive assistant, welcomes guests.
Donald Wilton-Pastor of First Baptist Spartanburg gives Scripture reading and invocation. He reads from Ephesians 2, "For by grace you have been saved through faith. And this is not your own doing; it is the gift of God, not a result of works, so that no one may boast." Graham joined his church in 2008 and Wilton has visited him weekly in recent times. He travelled w/ the family to Washington and will conduct the graveside service.
Hymn-"All Hail The Power of Jesus Name." Billy's family singing lustily without programs. Pres Trump and Pences using programs. And I'm singing along too.