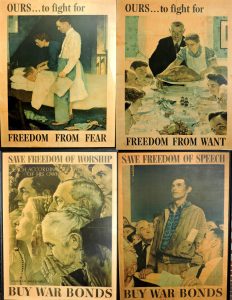 On this July 4th celebration, I invite you to join me in savoring these images of America's Freedoms. Struggling to get his head around how to illustrate President Roosevelt's call to commemorate such big ideas, Rockwell finally decided to depict them as he and his neighbors actually experienced them in his home town. Here's the backstory:
"In his 1941 State of the Union address, President Franklin D. Roosevelt attempted to unite the American people to a common cause. Though Pearl Harbor was still a year away, the war was already raging in Europe and Asia. England was on the verge of collapse. Pres. Roosevelt, faced with an isolationist-leaning America and the looming prospect of a second world war, set forth a vision that would inspire citizens to brave the sacrifices and perils he foresaw in the war against fascism. His vision consisted of four universal human rights:

freedom of speech, freedom to worship, freedom from fear, and freedom from want. He saw these values as America's heritage, now threatened and needing to be defended.