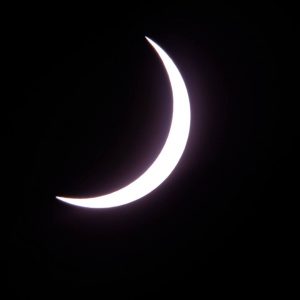 Ours is truly a privileged planet. That's what I was thinking Monday as the moon slid over the sun here in Columbia, South Carolina. Could it just be a co-incidence that…
…the moon perfectly, PERFECTLY blocks the sun's fiery ball?
…the moon and sun are both perfect circles? (Some moons are shaped more like a potato)
…the moon is 400 times smaller than the sun, but that is perfectly offset by the fact it is 400x's closer to Earth?
"For thus says the LORD, who created the heavens (he is God!), who formed the earth and made it (he established it; he did not create it empty, he formed it to be inhabited!): "I am the LORD, and there is no other," (Isaiah 45:18).
I was thinking, He formed it so that we would have a front row seat to see his glory on display like this.
Guillermo Gonzalez, an astrophysicist we interviewed for our radio program and co-author of the book Privileged Planet, said he studied all 65 moons in our solar system.