The Supreme Court released its long-awaited ruling on gay marriage Friday morning. By a vote of five to four it's now legal in all fifty states. We are living through a tidal wave of cultural change. How do you respond?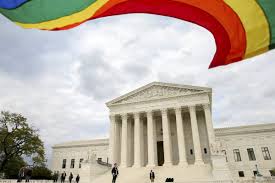 Maybe you are celebrating the news. Relieved that the issue will not need to be fought out state by state. Glad for your friends who are gay. Maybe you are working hard to show tolerance in this new social reality but, under the surface, are you seething? (Or maybe not under the surface…)
If you are angry, sort it out…why?
There's this fine line between righteous indignation and anger over losing our cultural place of Christian authority and respect. If  we're tempted toward anger over losing our place it's good to remember John 11:47-48: "So the chief priests and the Pharisees gathered the Council and said, 'What are we to do? For this man performs many signs. If we let him go on like this, everyone will believe in him, and the Romans will come and take away both our place and our nation."
The chief priests and Pharisees crucified Jesus in anger and fear over the threat of losing their place. So, if that's our motive…
Are we fearful? Of what?
Of our kids being taught things in public school against our values? Of wedding photographers and caterers being run out of business with heavy state-imposed fines? Of Christian colleges losing their accreditation? All these things are already happening or, in the case of Gordon College in Massachusetts, being threatened.
Instead of dwelling on fearful thoughts we may need to pray about hard choices and sacrifices ahead.
Today is a good day to remember one of my favorite quotes by Dallas Willard: "This world is a perfectly safe place to be… as long as you're in the kingdom of God." The kingdom of God, Willard went on to say, is where God's rule holds sway.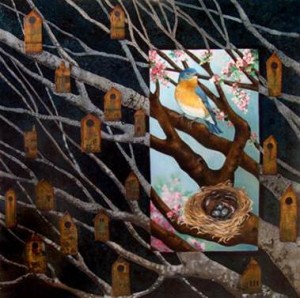 These are not "pretty words," as Willard would say. They are words of ultimate truth and grace. If God's rule holds sway in our lives then this world full of brokenness, ISIS and spiraling debt is perfectly safe for us. Like the robin in the cherry tree in this painting, "Consider," by Teresa Carter, taken from Matt 6:26, "Look at the birds of the air: they neither sow nor reap nor gather into barns, and yet your heavenly Father feeds them. Are you not of more value than they?"
In the midst of darkness, in the midst of bird houses made of newspapers splashed with 2008 headlines of foreclosures and a tanking economy, nothing can penetrate God's "protective hedge" around our lives except by God's express permission (Psa 139:5). If he allows it to touch us, it is for our good. Your good. My good. We can take God at his word.
Maybe, like me, you've been praying and fasting and asking God to turn the hearts of the Justices to choose to honor his law. If so, then like me, maybe you are quite sad this week.  We're in good company.Psalm 119:136-137 "My eyes shed streams of tears, because people do not keep your law. Righteous are you, O LORD, and right are your rules."
We know that God's law is righteous, whether people keep it or not. When they do not, then the Biblical response is grief.  "Streams of tears." Great grief.
With a personal God the sadness is personal. God, you designed man and wife. You designed marriage. You called it good. It's…beautiful. It lifts us up to your gates.
So it grieves me that the people you made are rejecting these good and beautiful gifts you have given them in favor of something against nature–against your good and beautiful design. 
I don't have a verse or a bow to stick on the end of this. I am soothed by the safety of God's Kingdom, but I'm also sad.
I suspect many of you will have different responses. But I am still very interested in what you are thinking and feeling. What are your thoughts?