Many of us have felt called to pray for Donald Trump and America. I love to pray the words of Scripture. So as he takes the oath of office and as I search through prayers by and for kings, I've been surprised by the rich inspiration and example. In their words…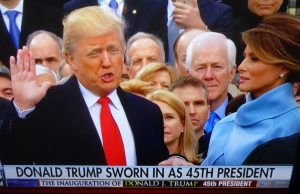 Heavenly Father, with Jewish King Hezekiah we declare, "You are enthroned above the mighty cherubim. You alone are the God of all the kingdoms of the earth. You have made heaven and earth."
May our new president declare this daily in his heart before you. May he enter the oval office with a deep sense that you rule. And he rules under your supreme power, your watchful eye and loving care.
With Babylonian King Nebuchadrezzar we agree, "Your dominion is an everlasting dominion, and your kingdom endures from generation to generation…you do according to your will among the host of heaven and among the inhabitants of the earth; and none can stay your hand or say to you, 'What have you done?'"
Lord, you have clearly raised up Donald Trump. You may have done it for blessing. Or judgment. Or both. But we look to you in trust and not doubt asking, "What have you done?"
Like Nebuchadnezzar, we praise and honor you "because all your works are right and your ways are just."
And like him we agree: "Those who walk in pride you are able to humble."
Lord, we all struggle with pride. In our lives, in President Trump's life, we pray that you would expose it. Show us how much we need to walk in step with you. Create in us humble hearts that love and serve you and others.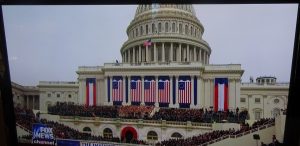 King Solomon humbly confessed that when it came to ruling this great people he felt like a child, "not knowing how to go out or come in." His Father, King David, sat down before you and said, "Who am I, O LORD God, and what is my house, that you have brought me thus far?"
God, may you give Pres. Trump that same humble heart. And may he turn to you and seek your face continually, like David and Solomon. May he trust not in his own works but in the atoning death of the Lord Jesus for forgiveness and a life of blessing with you.
Also we pray with Solomon, Give our president "an understanding mind to govern your people, that [he] may discern between good and evil." May he lean into you and your Word and receive wisdom that surprises even him. May he surround himself with godly advisors who will seek you and counsel him from the riches of your Word.
As Solomon prayed, "Give the [president] your justice, O God, and your righteousness! May he judge your people with righteousness, and your poor with justice! May he defend the cause of the poor of the people, give deliverance to the children of the needy, and crush the oppressor. May he have pity on the weak and the needy, and saves the lives of the needy."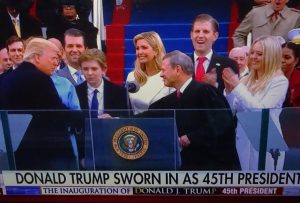 With the psalmist we pray that our president will "ride out victoriously for the cause of truth and meekness and righteousness." Give him wisdom to know exactly what that is and how to win.
As he does this may he "rejoice in your strength," as David did. As he "trusts in your steadfast love, [may he] not be moved."
Heavenly Father, may President Trump (and we) become convinced that we are "not saved by [our] great army; a warrior is not delivered by his great strength. The war horse (or missile) is a false hope for salvation, and by its great might it cannot rescue. But you are our help and our shield."
Lord, we have so many enemies. As Hezekiah prayed, "O LORD our God, save us, please, from their hand," especially those who make war on Christians, "that all the kingdoms of the earth may know that you, O LORD, are God alone."
Father, with the psalmists we pray that you would protect our president's life and health. Save him from terrorists or would-be assassins. "Prolong his life."
God, we also pray with the psalmist and Paul for President Trump's marriage. May he desire his wife's beauty and hers alone. May he lovingly sacrifice for her and may she honor and respect him. Lord, build a hedge of protection around their hearts as they live apart for the next few months. Guard his relationship with his children, especially Barron, who was missed at the Friday inauguration concert.
Finally God, we pray the great benediction over our new President:
"Bless [President Trump] and keep him.
Make your face shine upon him and be gracious to him.
Lift up your countenance upon him.
And give him peace.
Amen."