Do they still make movies with that story line? Yes they do. Even though the stereotype of Christians as weird has become so ingrained in today's culture that Tracey Ullman can give it a cheeky send-up in this 2-minute sketch, "A Christian's Job Interview."
For every Christian who is a bit weary of this not-so-subtle bias, Hacksaw Ridge offers two hours of stand-tall validation of a real believer's faith and a real God's faithfulness. And thanks to the superb film-making skills of Director Mel Gibson, it was even nominated for six Oscars, including Best Picture, Best Director and Best Actor. Contrast Ullman's clip with the movie trailer…
Private Doss was weird, not just because he was a Christian (it was the Christian-America 1940's), but because he was deeply devoted to Christ and he had vowed to never pick up a gun. His mother raised him as a non-violent Seventh Day Adventist kind of Christian. Gun violence had endangered his own family, and he would not carry a gun or kill our enemies.
Even without a gun he still desperately wanted to serve as a medic and radically trusted God to be with him. Even though he suffered physical abuse from his fellow soldiers and charges of "mental instability" from superiors who tried to get him kicked out of the army, he argued for his First Amendment religious liberty–the freedom of conscience "to be like Christ: saving life instead of taking it"–and won.
At a time when religious liberty is under severe legal attack, Private Doss's prayerful struggle must be a great encouragement to bakers and florists being sued for their refusal to use their artistic expression to celebrate gay weddings. I could not help but think that if he could contend so fiercely for his desire to honor Christ in a hostile culture we can too.
---
This year's Best Picture nominees included too many outstanding films to include in one post, so I'll be writing several retrospective posts with Faith & Culture commentary on nominees in days to come.
---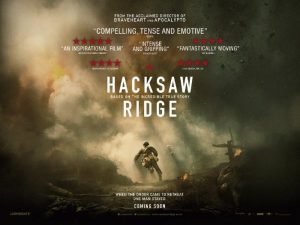 Both in the movie and in real life, the weird Christian went on to risk his life repeatedly to rescue and tend the very soldiers who had bullied him as well as many others. Surrounded by the terribly wounded, again and again Doss prayed,"Lord, please help me get one more," down off Hacksaw Ridge and into surgery and medical care.
The Lord showed such favor on Doss that he won the deep respect of his peers and superiors and was awarded the Congressional Medal of Honor for his courage and God-empowered efforts to save lives.
Perhaps, like me you did not watch but maybe half of the violent opening 20 minutes of Saving Private Ryan. If that's the case, you may not want to watch a significant part of Hacksaw Ridge. But the story is deeply encouraging and the acting is terrific and well worth just listening through a few scenes.
While Hacksaw won two Oscars, it lost the Best Picture award to Moonlight, a story of an abused black kid finding love and betrayal in a gay relationship. After reading the plot summary on IMDb, it's not on my watch list.
Thankfully, Hollywood is still able to nominate Mel Gibson's direction and the story of a Christian hero who fights for religious freedom and saving lives. We haven't gone all Tracey Ullman yet.
Hacksaw Ridge is available to buy or rent on Amazon, Netflicks and other streaming services.
If you've seen Hacksaw Ridge, what did you think? Thumbs up or down? Please give us your opinion in the comments below…