In today's culture it is rare to live our lives in a community where our great grand-parents on both sides lived, served and loved.  A recent visit to our roots in Paris, Texas challenged me to consider what we're missing…and what we've gained.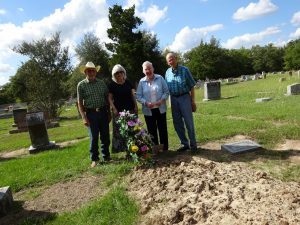 When my Mom's cousin was diagnosed with an aggressive form of dementia in January, Mom intended to go visit her. But Sarah died in July, before Mom, at 84, could arrange the trip.  Last week, when I took her to visit her cousin's grave, they told us that 500 people had showed up for the visitation for Sarah, a 5th grade teacher and tour guide. It had stretched out the door and around the block of the Victorian funeral home in Paris, Texas.
Not many of us live our lives like Sarah, dying in the community where we've loved and served and our family goes back for generations.  Instead of deep roots and strong branches, our families are more like dandelions–spreading seeds across a windblown landscape. My Dad's family is from Quebec and up-state New York. I was born in Houston, Texas. Moved to Austin to attend college, then to Dallas to begin my teaching career.
There I met Jack. A couple of years later we married and soon moved to San Jose, Costa Rica to attend language school and begin a career in missions.  When I was diagnosed with rheumatoid arthritis we returned to Dallas and then Houston again for ten years in one community and almost 20 in another. Six years ago we moved to South Carolina.
To many people that may seem pretty stable. But to me, as I stood by Sarah's grave and considered a life spent teaching Sunday School in the same community for 55 years, it seemed positively nomadic.
My "people" were farmers in Paris. My great-grandfather Bills owned a big cotton farm that the US government appropriated by imminent domain and used to build the Paris airport.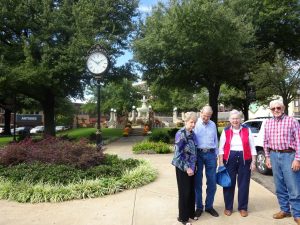 His son, Sarah's dad, my great uncle, was county sheriff, one of eleven children. With his brother he ran the local furniture store.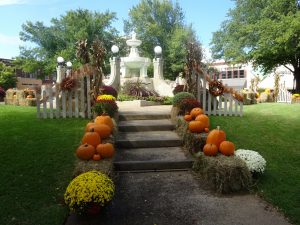 Paris was largely destroyed in 1916 by a raging fire. Then a tornado plowed straight across it in the 80's.
Community spirited people like Sarah's husband, Glen, a retired banker, have worked to rebuild it and preserve the heritage of that sturdy southern Great Plains town just 15 miles south of Oklahoma. Glenn proudly showed me through the Lamar County Historical Museum where he volunteers every Friday.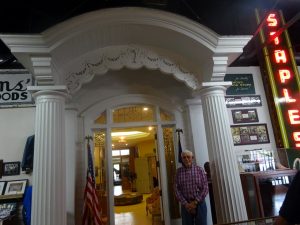 It chronicles the ways the people of Paris have rebuilt and overcome the challenges of not just the fire and the tornado, but also prejudice and oppression.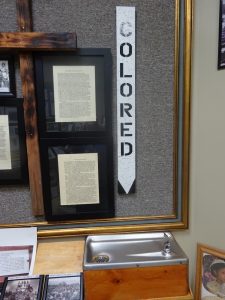 Mom and I both have fond memories of visiting our relatives in Paris, where aunt Mattie made killer biscuits and uncle Dan rode us around town in his Sheriff's patrol car. He "stored" his revolver on top of the refrigerator, out of reach of us kids, but not my mom, who tilted it up one fine morning and managed to fire a bullet into the wall before breakfast. Great way to wake everybody up.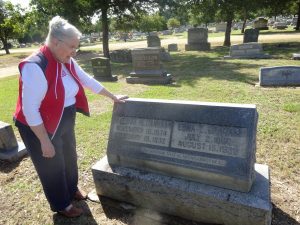 On this trip, probably Mom's last, we visited four cemeteries and paid our respects to great-great grandparents, great-grandparents, aunts, uncles and cousins.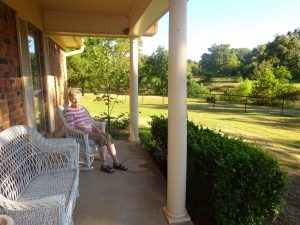 We sat on Mom's cousin's Annelle's front porch and talked about funerals and new grand-babies and heartbreaks and picking up the pieces and a God who walks with us through all of it.
It all felt so rooted and connected. Made me miss being a greater part of it. Jack and I don't know where our journey will end–if we will wind up back in Texas, here in South Carolina or somewhere else our son may settle. Like the Levites, we haven't been called to invest in just one deeply-rooted place, but we serve in places and ministries where God has led us. Maybe that is your experience too.
As I walked through six cemeteries I realized, no matter where we live, our lives are deeply rooted in God's kingdom, his community. Whether we move often or stay planted, on earth we are all travelers, always thinking of home. I love the quote etched on my great-grandparents headstone, William (1874-1932) and Edna (1880-1939) Graham, : "There is no sorrow that heaven cannot heal."
One day I will meet them and in a grand reunion we will tell the stories of how very true those words turned out to be. We will talk about the Kingdom we partnered with God to build. And we'll see how all the moves or staying put contributed to its beauty and our becoming the kind of people that we long to be. And we will give thanks to our Father for accomplishing his purposes for us–for his glory and our great joy.
Where are your roots? Do you miss being more connected? Please share in the comment section below…