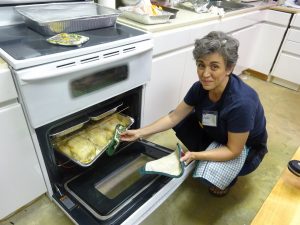 Take a peek at our Apples of Gold power point below. Based on the invitation (in Titus 2) for older women to mentor younger women in kindness, loving their husbands and children, hospitality and other big issues, we gathered for 7 weeks this fall for cooking lessons and Bible Study.
Liisa and Judi, our cooking mentors taught us how to make everything from pulled pork to cheesecake, how to choose olive oils and knives and whip up a perfect mug of frothy coffee. Then, after Bible study and discussion, they served up the yummy lunchtime results of their labors–the perfect setting for going deeper on our topics.
(to enlarge/auto advance click icon on right to view @ Microsoft online, online do not select "Start slide show" top right)
Social science research is increasingly  showing that good marriages are key to everything from financial success to better health and life expectancy. And perhaps the best way to work for social justice is to strengthen marriages.
It's been pretty fun to do it in the kitchen.
To all of you who are working so hard to nurture your marriages and children during the holidays, the work you are doing (especially in the kitchen!) is incredibly important. Don't grow weary of doing good. Seize the day! And may God fill you with the joy and flourishing that always comes as we follow the way of Jesus.
If you have any questions or comments about Apples of Gold or cooking to nurture families please post them in the comments section below…