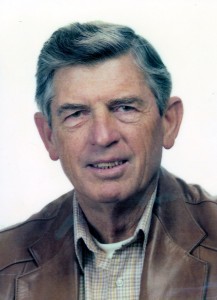 My Dad died in June. Jack's Dad died last Tuesday. Monday evening we receive a call: He's been feeling bad for three days and finally consented to go to the hospital. Monday night we receive another call: He's in ICU. At 4:30 am we receive another call: He's gone. Just like that. Irrevocably. Permanently.
We will fly to Dallas for the funeral. We will walk in the door, but there will be no hearty hello hug. No booming voice asking, "What's up, hoss?" No great presence filling the room, enthroned in his recliner, a book in his hands and one eye on the TV. No one will want to sit in that empty chair.
Jack's Dad was a fair minded, honest, no nonsense type of man. We will always remember him for his many Dadisms, such as, "You are the only one who can ruin your day." You can read his obituary and see the visitation slide show here.
As Jack and I processed the news on that still-dark Tuesday morning we were overwhelmed with gratitude. God had given us a priceless gift: time together. Although we lived 1,800 miles away, we had spent the previous Tuesday with his folks. And the Wednesday before that.
On that Tuesday Jack and his Dad had taken a little road trip to the VA hospital for a hearing check-up. Lost in stories of hunting and fishing trips, the miles slipped by. At the hospital Jim greeted everyone they met. The ladies got a hug. Jack had brought a copy of End of Life directives which they carefully went over with the social worker. As they arrived home Jack's Dad said what they were both thinking, "This was a good day."
Marie and I had also had a good day at the Dallas Arboretum enjoying the spider mums, 50,000 pumpkins and the life-size, glittering Twelve Days of Christmas in 25-foot Victorian gazebos (well, it's Texas).
Ever since Jack and I moved to South Carolina five years ago, we've always wondered if "this good-bye" would be our last. Turns out, last Tuesday's was. We can never know.
On this Thanksgiving we are grateful for every visit. Every phone call, even when we had to almost shout to be heard.
We are grateful that the hospital close to home where Jim was taken honored the end-of-life directives that he had just signed at the VA. We're thankful that, just as Jim earnestly desired, he didn't linger and suffer. Nor did he continue to fall and wind up in assisted living.
We are grateful for our friend Jan who talked us into signing up for the credit card with air miles bonuses so we didn't have to break the bank flying to Texas at the last minute. Or pay 100,000 miles for two tickets on pre-Thanksgiving weekend. Or fly out from North Carolina at 5:00 am. Or fly through Washington DC, Chicago and Denver to get there.
We are grateful for two Columbia/Dallas non-stop Wednesday flights which landed us in Terrell, TX at precisely the moment when the family was meeting to plan the funeral. Which meant that, when the pastor apologized that we would have to sing the hymns with recorded accompaniment, we could suggest our son Zach, who agreed to sing lead and play them on the baby grand. Which meant so much to him and many others.
We are thankful for the Navy Honor Guard who came at last-minute notice. And for the Navy Hymn and Taps.
We are so grateful for the women of College Mound United Methodist Church who surrounded us with amazing food, including fried chicken, pecan pie and Paula Deen-worthy mashed potatoes (+1 stick butter+1 pkg cream cheese+1 dollop sour cream).
We are deeply thankful for…
…dear friends in Columbia who gathered around us the night before we left to break bread with us and pray for us, and who texted us during visitation.
…dear friends in Dallas who sheltered us and loaned us their car.
…our wonderful family who gathered in and loved each other well through the week, each contributing from their strengths and gifts to serve the rest, especially niece Cindy and daughter Kristin who graciously helped hostess us all.
In 1 Chronicles 16 King David calls the people to "Give thanks to the Lord." How? Seek his presence, call on his name, sing and "tell of all his wondrous deeds." We seek his presence in our loss. We call on him to keep his promise to be close to the broken hearted. We sing softly to him…"Give thanks with a grateful heart because he's given Jesus Christ, his son…"
As for his wondrous deeds, so often the most wondrous feature of God's deeds is his timing—that eleventh hour loving signature on his just-in-time gifts. Delivering as only he can.
There is never a good time for death. It rips a family apart. It is terrible proof of the evil afoot in this fallen world.
But there is sheer grace and tender mercy in the midst of it. And this is what we "make known among the people."