Do you think this is "racist" and "white nationalist"? Do you think it's Biblical to be this proud of Western history and values? Speaking in Warsaw last week, Trump vilified Soviet Russia and celebrated the sacrifices of the Polish people's fight for freedom. He also celebrated the culture and achievements of Western Civilization, especially the way we value freedom, God and family. For all that he has been widely criticized.  I've edited this very important speech for quicker reading and encourage you to read it for yourself…What do you think?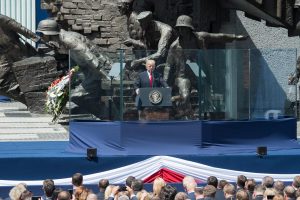 "…This is a nation more than one thousand years old.  Your borders were erased for more than a century and only restored just one century ago.
In 1920, in the Miracle of Vistula, Poland stopped the Soviet army bent on European conquest.  Then, 19 years later in 1939, you were invaded yet again, this time by Nazi Germany from the west and the Soviet Union from the east.
Under a double occupation the Polish people endured evils beyond description: the Katyn forest massacre, the occupations, the Holocaust, the Warsaw Ghetto and the Warsaw Ghetto Uprising, the destruction of this beautiful capital city, and the deaths of nearly one in five Polish people.  A vibrant Jewish population — the largest in Europe — was reduced to almost nothing after the Nazis systematically murdered millions of Poland's Jewish citizens, along with countless others, during that brutal occupation.
In the summer of 1944, the Nazi and Soviet armies were preparing for a terrible and bloody battle right here in Warsaw….