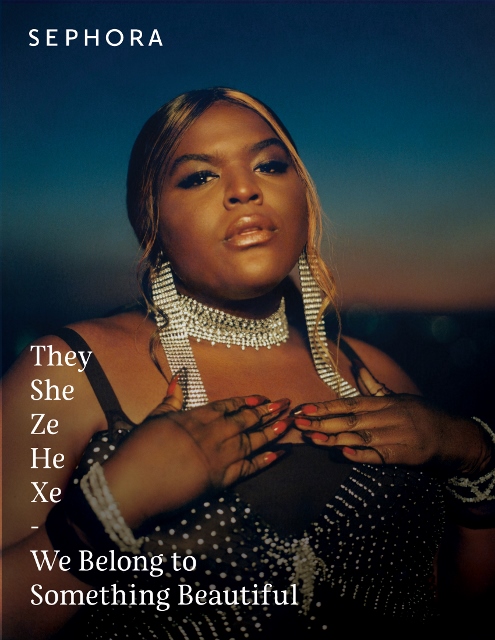 Walking down the mall last week I saw this large poster in the Sephora makeup retailer window. It was the end of June, gay pride month, and of all the messages I'd seen celebrating LGBT I found it the most riveting–a made-up face with the gender neutral pronouns down the side and the ad campaign slogan across the bottom: "We belong to something beautiful."
I continued on to my car, but the poster haunted me. I live in Columbia, South Carolina, not exactly a hotbed of LGBT activism. But here was this poster in our neighborhood mall going beyond asking for acceptance for transgendered people. It went beyond celebration of diversity. It made a strong moral statement: Transgender is beautiful.
When it is July hot and 150% humidity, I walk for exercise in the mall. So a few days later I was back, approaching the store and considering whether to talk with the manager. I reached the store and searched the windows. No poster. I entered and who should greet me but…the manager. She welcomed me with a friendly smile.
"Can I help you?" she asked.
"Hello," I said. "Yes, last time I passed by you had a poster in your front window that said, 'We belong to something beautiful.' I noticed that today it's gone…"
"Yes," the manager responded, "we passed the end of the month and we always change them after a month."
"I've wanted to tell you that I've really been thinking about your poster and its message."