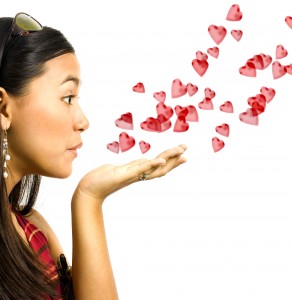 Yes, Valentines is a celebration of love, but what is at the heart of love? And what clues might it give us to the best way to celebrate?
On the phone with my mom last night, a true introvert and a tiny bit of a loner, she said, "I just need a hug."
"I'm so sorry, Mom, that Dad isn't well enough to hug you anymore. And I'm sorry that I'm so far away."
"Yes, you know there's a lady here where I live and she gets to feeling the same way. So we've agreed that, if ever we need a hug, she can just come to me and I will gladly give her one. And she'll hug me if I need it."
"Sounds like you need to look her up tomorrow."
"Yes, I think so."
Whether it's a sudden disruption or a long slow drip, trouble and pain bring clarity. They help us discover, what really matters most? What is our greatest treasure? The answer is not success or accomplishment. Or a closet full of clothes or a trip to the beach or the mountains or "going to Disneyland." It's the tender presence, even the touch, of someone who cares about us.
We are created in the image of a God who not only pursues intimacy but who is intimate at the core of his being. Before there was a universe there was Father, Son and Holy Spirit, one in substance, yet three distinct persons living and loving in perfect communication, unity and the joyful presence of one another.
We tend to take the Trinity for granted. But the implications are huge. It means that, at the heart of the universe, there is love and relationship. Not impersonal time + chance + matter. Not the lone God sitting on his throne, remote and emotionally distant. Not even an individual at the heart of things. But community.
And that, rather than the need to survive, is the reason that human history is first and foremost the story of families and tribes. Until Rousseau.
As Nancy Pearcey wrote in Faith and Culture, "Humans were created not as individuals, but as a couple—male and female—related from the beginning in the institution of marriage, forming the foundation of social life. This explains why it was so revolutionary when Rousseau proposed that individuals are the sole ultimate reality—something everyone now takes for granted."
What does Rousseau tell us about our ultimate reason for being and happiness? Rousseau believed that all that exists are disconnected, autonomous individuals, whose sole motivating force is the desire for self-preservation. Loving relationships are not ultimate; instead they are secondary, derived from our own  individual choice.
So our truest nature would be that we are autonomous individuals who should be free to live in that autonomy. You may have heard his famous quote: "Man is born free, and everywhere he is in chains." As Pearcey says, "he did not mean chains of political oppression but the really oppressive relationships like marriage, family, church, and workplace."
This is the secular basis for freedom that has distorted a biblical view of freedom. The biblical view that says we're been created in God's image, the foundation of human dignity. As image bearers our ability to make our own choices should be nurtured and protected within the limits of respect for the dignity of others because we have been intended for loving relationship with others…and God.
Rousseau's ideal of the autonomous individual has been woven into the DNA of America. We celebrate the rugged individualist. But loving others put demands on us. The rugged individualist has a hard time laying down his or her own agenda, or even her cell phone, to give her loving presence to other people.
How do we shake off our notions of radical autonomy and recover our true, God-given purpose? We learn how to celebrate love, especially as we see how God loves us.
The entire Bible is the story of God's offering us the gift of his loving presence. Sin separating us from his presence. And Jesus—Immanuel, God present with us—making a way for sinful, autonomy-pursuing individuals to be reconciled to God, welcomed into his presence now and forever.
What does it mean to you that God has promised "never to leave us or forsake us"?
Here is David's response from Psalm 139: "Where shall I go from your Spirit? Or where shall I flee from your presence?
If I ascend to heaven, you are there! If I make my bed in Sheol, you are there!
If I take the wings of the morning and dwell in the uttermost parts of the sea,
even there your hand shall lead me, and your right hand shall hold me."
And from Psalm 23: 4 "Even though I walk through the valley of the shadow of death, I will fear no evil, for you are with me."
God is always present to us, giving us his time and attention. So of course, he wants us to reciprocate. Love wants to be warmly welcomed and loved in return:
Psalm 105 says, "Seek the LORD and his strength; seek his presence continually!"
This is a command of Scripture. Not one that I really understood or embraced for a long time. I didn't go into my quiet time to seek the Lord's presence as much as complete my study questions. I didn't go to church seeking God's presence, as much as wanting to learn, enjoying singing the songs, seeking my friends. Praying a little.
But I am learning more and more to come into his presence. To quiet myself with the interior gaze of my heart fixed on him. I was reading Psalm 27 this week…"You have said, 'Seek my face." My heart says to you, "Your face, Lord, do I seek." Jesus calls me to intimacy. I respond. Heart to heart. Face to face. To seek another person's face means to seek his eyes: "Notice me!" Seek his ears: "Listen to me!" And seek his words: "Talk to me!"—the things we feel and say when we've been home with small children for a week straight and our spouse walks in.
These cries for connection echo through the pages and the ages of the Psalms, pleas of intense longing for the presence of God. "You are such a treasure…I drink from the river of your delights…I thirst for you…Better is one day in your presence than thousands elsewhere…Thank you for all that you are, all your good gifts…"
What is "presence"? Being close at hand, giving your time, attention, touch, sharing your moments—your sorrows, your joys, creatively giving help at the moment it's needed.
It's the opposite of Proverbs 18:1- "Whoever isolates himself seeks his own desire; he breaks out against all sound judgment."
So this Valentine's celebrate love by giving the very best present—yourself. Your tender, loving presence. Turn off your phone. Shut down the computer. Leave off seeking your own desire.
The very best gift can be another leisurely, no-phone-interrupted game of Scooby Doo Bingo.
A hug to someone who rarely receives one.
A warm cup of tea and your unhurried smile.
A cold winter night of warmth and tenderness.
An early winter morning drawing close to God.
These simple acts of loving presence, these "requirements" of love are not impositions on our freedom but expressions of our true nature. They are the very things that transform us and prepare us for our ultimate purpose—to be like Jesus and become citizens of his Heavenly City.
For all his philosophical brilliance, Rousseau approached the end of his life experiencing the consequences of his ideas. Nancy Pearcey writes that the author of Western radical individualism and his mistress "had five children–and one by one, each was abandoned on the steps of a state-run orphanage. Records show that most children in the orphanage died or became beggars…In his final book, Rousseau lamented that he had 'lacked the simple courage to bring up a family.'"