Every four years, when we shop for a new president in debate season, we have a history of looking for what we believe is missing in our current president. You can look back from president to president and see the cultural pendulum swinging from one profile to its opposite.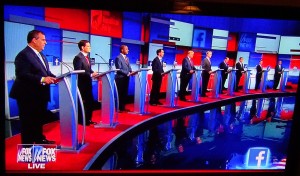 For example, after four years of Jimmy Carter's malaise and sunset in 70's American  gas lines, we elected Ronald Reagan to be strong and bring back the morning again.
In the wake of Pres. Bill Clinton's affairs and slippery I-did-not-have-sex-with-that-woman deception, we wanted someone who was honest and trustworthy. In George W. Bush we elected a straight shooter with no history of scandal or corruption, and a strong family man.
After years of war on terror, we settled on a president who was less of a "cowboy" and more of a conciliator. Now, after eight years of negotiations with Iran and retreats from red lines, we see a lot of enthusiasm for a strong man again– someone who will Get. Things. Done.
Both Reagan and Bush were perceived as presidents with strong personalities who could get things done. But they were both also known for showing great respect and extraordinary personal kindness to others.
Presidential speechwriter Peggy Noonan told the story of Pres. Reagan's kindness to 83-year-old Francis Green. Francis sent in about $1 a month to the RNC. So when a fund raising letter arrived "inviting" her to visit the White House, she packed her bags and took a four-day train ride to Washington, only to be turned away at the door.
A Ford executive overheard her plight and arranged for her to tour the White House and meet president Reagan. It turned out to be the day that Ed Meese resigned. The White House was a bit chaotic. The Ford exec feared Reagan would not be available.
Noonan wrote, "They stood outside the Oval Office as the National Security Council and various generals walked out. Reagan saw them standing there and motioned Ms. Greene inside.
"'He said: "Frances! Those darn computers, they fouled up again. If I'd have known you were coming I'd have come out there to get you myself.'
"And he sat down with her and gave her time on that busy day."
Pres. and Laura Bush were well known for the remarkable amount of time that they set aside for wounded soldiers and their families. Presidential Communications Director Dana Perino tells the story of a marine who dropped his rifle during a silent-drill sunset parade–right in front of President Bush (43). Everyone gasped.  The Marine was utterly embarrassed. The next day he opened a personal note of reassurance and encouragement from the president.
How we treat people says everything about our character. And character is the foundation upon which good leadership is built. Scripture teaches us that a good leader is willing to sacrifice from a heart of humility. Lay pride aside and show patience, gentleness and sensitivity to the needs of others. Business literature overflows with examples that the most successful CEOs are those who combine credibility, competence and caring for others.
A strong man without kindness is…a Putin. Brash and bare-chested. Treating better men with a lack of respect or dignity. It is Machiavelli's Prince… The leader who maintains it is better to be feared than loved. And compels people to Get. Things. Done.
When things start feeling more chaotic we may be drawn to a Prince to get things under control.
But buyer beware…A Prince will draw his authority to get things done from our freedom to live as we choose. He must increase. We must decrease.
Finally, If we find ourselves drawn to a marketing brand that is hip, sarcastic and edgy over one that is kinder and more sincere, think about what life was like with TV's Dr. Greg House.  He was fun to watch. And plenty competent. But would you really want to live with him or work for him? Or have him try to work things out between the Jews and the Arabs?