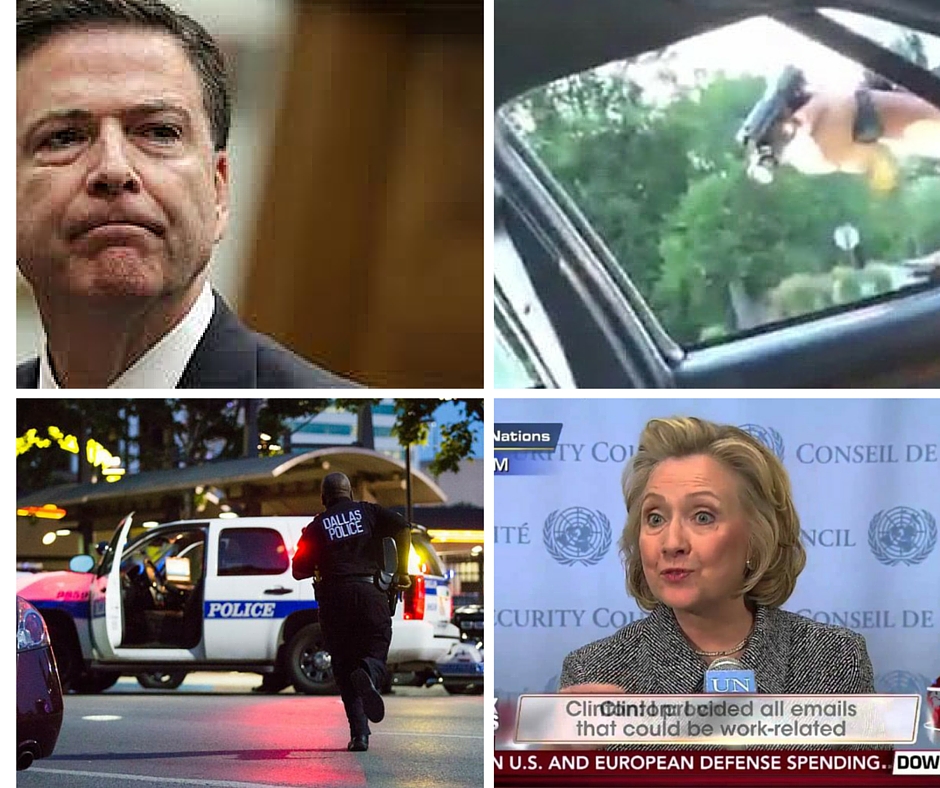 I've watched the acrimony and violence of this past week with a heavy heart. The Director of the FBI is by most accounts a man of "north star" integrity. Yet when he condemned Hillary Clinton as "extremely careless" in handling classified information without recommending a criminal indictment, he was harshly attacked. Two days later white police shot and killed blacks who seemed suspect. A black shooter in Dallas vented his rage by shooting as many white police officers as he could.
We tend to think that we can rip and tear at the fabric of America, but that our laws and institutions are indestructible. They can take whatever assault we deliver. But nations as well as families rest ultimately on a foundation of trust. A trust based on respect for the dignity of each individual as well as respect for the laws and institutions that protect us.
We look back over this week and wonder if that trust is fraying into an irreparable breach. And we wonder, what responsibility do we bear for being ministers of reconciliation who take seriously the call to care for our culture?
I agree with those who believe that Hillary Clinton lives according to a different standard, as if the rules and laws do not apply to her. But the way many conservatives withdrew to their partisan corners, as Paul Ryan described it so well today, and began to rip Comey saddened me deeply.
Some reasonable people simply disagreed with his call. Others accused him of being bought off. Others of cowardice. Others of self-interest for himself and or his agency. "The system is rigged!" tweeted Trump. What does that even mean? That Comey cares more about protecting Hillary than rendering a decision based on an honest and fair evaluation of the evidence? We found out yesterday that it was the unanimous decision of the FBI investigative team leaders not to file charges. So does that mean the entire FBI is rigged? The entire FBI is committed to protecting Hillary Clinton?
Isn't that the attitude that drove the Dallas shooter? The system is rigged. We (the black community) have been hit, so we hit back twice as hard. This worldview is literally tearing us apart.
As Christians we are called to be ministers of reconciliation:

For the love of Christ controls us, because we have concluded this: that one has died for all, therefore all have died; and he died for all, that those who live might no longer live for themselves but for him who for their sake died and was raised…in Christ God was reconciling the world to himself, not counting their trespasses against them, and entrusting to us the message of reconciliation. Therefore, we are ambassadors for Christ, God making his appeal through us. We implore you on behalf of Christ, be reconciled to God (2 Cor 4:14, 15, 19, 20).
The love of Christ controls us so that rather than tearing our culture down, we work hard to care for our culture. We work against the fragmentation and dehumanizing forces gaining strength. We honor God's image in each person. We offer the benefit of the doubt, or at least great respect to someone of such sterling reputation as Comey. Even if we disagree.
We pray for justice. We strive to effect justice under the law. We extend true compassion to those, black and white, who are the victims of violence. And we extend patience to the process of bringing the guilty to justice.
At the heart of reconciliation is the contrition of the guilty, the granting of forgiveness by those wronged and the willingness to endure the consequences or make amends for the wrongs we have done. Only then can we hope to rebuild the trust we need to restore unity and peace.
As ministers of reconciliation we try to provide a soil of love and respect and culture care where this reconciliation can flourish—the reconciliation of each individual with a God who loves us and died for us, as well as the reconciliation of individuals with each other and leaders with followers.
We have to reflect on how angry, disrespectful attacks on our institutions and the people who lead them on Tuesday undercuts our moral authority when, on Thursday, we seek to console the bereaved and promote healing and reconciliation in the wake of the racially charged shootings in Baton Rouge, Minnesota and Dallas.
Those of us in leadership especially set the tone. We know true contrition when we see it. The nation is waiting for Hillary to respond to the FBI's conclusion that she lied repeatedly to the American people about how she guarded the classified secrets entrusted to her. No doubt she remembers how her husband was criticized for being far too self-defensive in his first "apology" for his affair with Monica Lewinsky.
After he surrounded himself with a circle of pastoral ministers of reconciliation (including, Bill Hybels, Gordon MacDonald and Tony Campolo), then President Clinton delivered a second apology for the Lewinsky affair. He begins by saying that he agrees with those who said that in his first apology he was "not contrite enough." His one-minute apology is an example to us all:
It was important to him to acknowledge that the sorrow he felt was genuine. And he specifically extended his apology not just to family and friends, but also his cabinet, staff and the American people—everyone to whom he had lied. He went on to say that to be forgiven, more than sorrow is required. He also purposed to show "genuine repentance. And determination to change and repair breaches of my own making." This is the fruit in his life, in our nation's life, of the wise counsel of Christians committed to a ministry of reconciliation.
In the wake of this week's FBI report, this level of sorrow and contrition is what the American people have yet to feel or receive from Hillary. Will she follow her husband's example? Will she demonstrate a willingness to repair breaches of her own making? To endure whatever consequences may come as a result of her bad judgment? Hopefully she will repent of her self-defense and stonewalling and simply apologize from the heart for lying to the American people.
What about us? How can we respond to Hillary and James Comey with our calling as ministers of reconciliation in full view? Are we as concerned about reconciliation and culture care as we are about justice and culture war? How are we praying for our broken nation? What are we saying on social media? In personal conversations? From our pulpits? How are we stewarding our citizenship as a minister of reconciliation first?
As for the events of yesterday, are we as sorrowful over the loss of black lives as we are of police lives? Do we feel a true sense of contrition over any indifference we've felt to the plight of families who have been touched by excessive police violence? Does our commitment to justice diminish our rightful calling as ministers of reconciliation? What do we long for more? My heart broke for the Minnesota girlfriend crying out to Jesus, crying out for prayer.
May the events of this week serve to heighten our sensitivity to the vulnerability of our nation, especially as we head into the conventions in Cleveland and Philadelphia. And may we recommit ourselves to care for our culture with the love of Christ that stands strong against injustice, but values reconciliation above partisanship and rebuilds the trust we need to flourish.