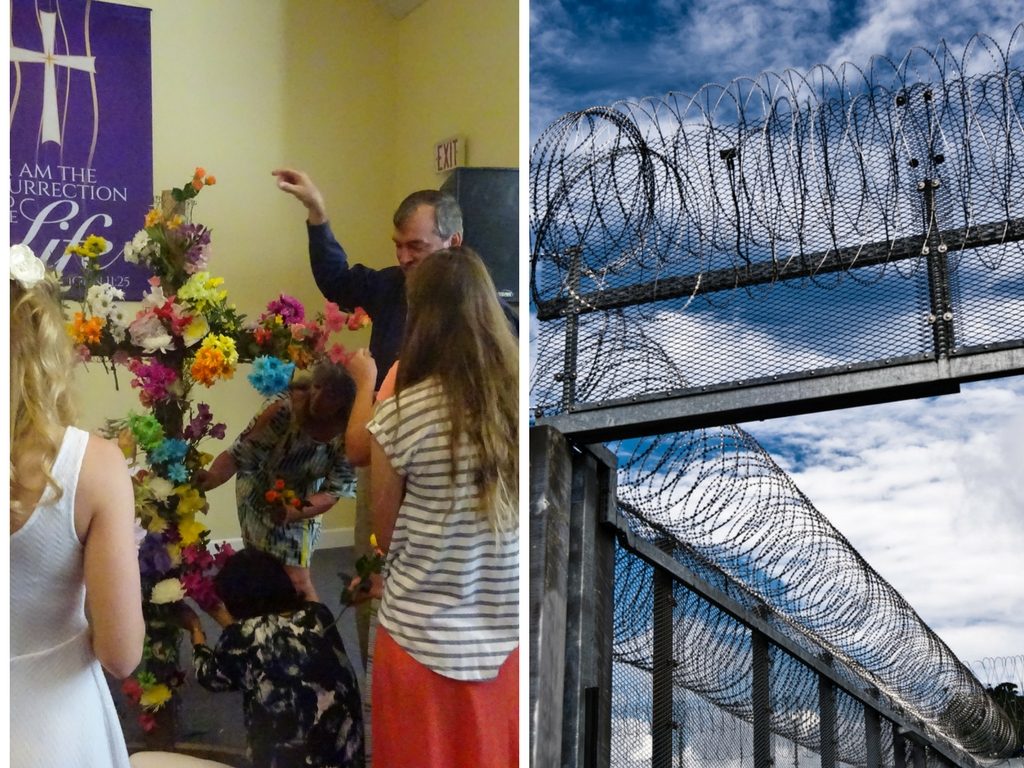 While we were weaving flowers into the wire mesh of our Easter cross, singing inspirational hymns, and listening to Jack preach the power of the resurrection, my friends Carol and Gene Kent were standing in line, like they do every Easter, to join their imprisoned son at the "church of the razor wire," as they call it.
I still remember the day sitting in a Barnes and Noble café, when Carol opened her heart to me: "Late one night we received a call that our son was in county jail," she said, "charged with first-degree murder. He shot and killed his wife's ex-husband in a Sweet Tomatoes parking lot in broad daylight."
My friend's only child, a high school honor student and an Annapolis grad, had been serving as a special ops officer in the navy. He had married a beautiful girl with a wounded heart. After years of abuse she had fled her first husband with her two precious little girls and divorced him. Eventually, she met my friend's son at the singles class in their church.
After they were married, the girls would visit their biological father, but only with supervised visitation privileges. Their mother and my friend's son believed that the biological father was a potential danger to the girls. My friend's son and his wife were in a custody dispute, and the biological father was seeking unsupervised visitation. It appeared they might lose.
So her son permanently removed the threat.
My eyes welled up with tears. I couldn't believe what I was hearing. It was a nightmare. Even worse, it was my dear friend's everyday reality. She grieved for the victim's family and for her son's terrible decision.
For two and a half years I prayed with my friend for her son while she waited for his case to come to trial. When the verdict finally came down it was severe: life without parole.
I ache for my friend. Yes, JP is still alive and we have much to be grateful for. But there are many ways to lose a child, and my friend has walked through a loss loaded with humiliation. She travels and speaks a great deal, constantly meeting new people. "Oh, tell us about your family." Suddenly that casual, sweet, get-to-know-you question became salt in an open wound.
Carol and Gene thank God that their son's life was spared and they are not spending holidays beside a grave. They fully agree that JP is guilty and deserves punishment. So does JP. But the consequences of JP's decision to take a life roll on and on.
Being the mother of an only child, also a son, I can't imagine what it has been be like to face almost twenty Easters and Christmases and countless weekend visits standing in prison entry lines, often in the hot Florida sun, waiting to buzzed in under the razor wire, eating Easter and Christmas dinners out of the vending machines.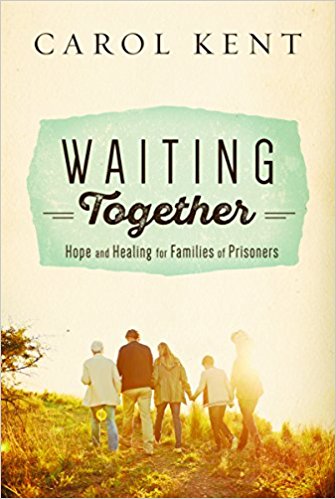 Out of this heart-wrenching experience Carol has written a book offering help from a fellow-traveler to others whose loved ones and friends are serving time in jails and prisons. Waiting Together: Hope and Healing for Families of Prisoners chronicles Gene and Carol's journey through the shock of JP's arrest, the long wait for the trial and the new normal of life with a son in prison.
Carol writes with empathy and vulnerability for each one who faces the challenge of carrying on a relationship with someone behind bars–from the initial battles with shock and shame to the absolute loss of any control, to letting go of dreams or expectations, and the struggle to hold on to hope.
She begins each article with a story and follows it with application and advice. Each article ends with a personalized word from Scripture, although the reader doesn't need to share her faith to find great value in the book.
Often, when a loved one commits a crime, the family cuts them off. Going to visit is unfamiliar, inconvenient and difficult. Carol explains what visits can mean to prisoners and walks her readers through the process, offering help on everything from how to get clearance and what to wear to planning what to talk about.
Conversely, the fiery ordeal of being dragged through the mud with family members who committed a crime can motivate friends and loved ones to become reclusive and cynical, withdrawing from church and friends. Carol helps them respond with courage and creativity to shunning and awkward conversations, even their own inclination to assume blame and hide. She equips them to grieve their losses but not without hope.
She discusses how to choose vulnerability, gratitude, perseverance, and embracing the hidden gifts in their unwanted circumstances and confesses that when she reaches out in ministry to others, "I'm the one who benefits most. Instead of being consumed by the harsh circumstances in our own family, my focus turns to others. That is a treasure I never expected!"
Living close to the struggles and deficiencies of inmates has inspired Carol and Gene to become advocates for prisoners and their needs. They have started a foundation, Speak Up for Hope, that supplies food packages, educational and chapel resources for inmates.
Carol encourages her readers to get involved too: Brainstorm needs with their inmate; pick one and work together on a creative solution, always advocating with kindness, humility and prayer and see what doors God might open.
Almost every family or friend wants to hear their imprisoned loved one acknowledge their guilt and express remorse. Carol describes how both are a process that can take years and helps her readers wait with patience. She also helps them through the process of dealing with their own anger and resentment–extending grace and forgiveness, walking through reconciliation and facilitating healing.
She probes the spiritual dimensions of these heart issues, helping readers understand their anger at God, their searing questions: "Why God?" "Why did you allow this when you could have prevented it?" "Where are you when it hurts?" "Do you still answer prayer?" Readers will not find pat answers that stick a bow on such gut-wrenching struggles. Rather they will discover how Carol joins them in their questions and shares her own prayers and the deep waters of God's Word that, even when answers are elusive, bring us closer to the Answerer
Inspired by her own son's attitude behind bars, Carol helps families understand how prison life can still be lived with great purpose. JP teaches Dave Ramsey's financial principles to fellow inmates. He assists the chaplain in ministry to those with spiritual needs. She challenges others to encourage their inmates to take prison jobs and find meaningful work. To receive counsel and encouragement from visitors.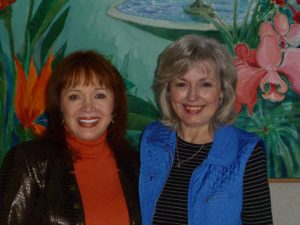 Over the years I have seen Carol live out the wisdom she imparts in this book. More importantly, through her fiery ordeal I have seen God transform her from the dynamic, almost-perfect teacher/ speaker who couldn't bear for me to take her dirty napkins to her laundry room into a woman who is done with appearances and all the right answers. A "velveteen rabbit" of a Mom who has had lots of her perfect fur loved off by prison inmates and found a different, deeper kind of joy in serving the least of these.
So much of the wisdom in this book applies to any reader. I started to skim it and wound up reading deeply for my own equipping and encouragement. I've been inspired to renew my prayers and outreach to prisoners, a group close to Jesus' heart.
If you know someone whose loved one is in prison, please share this rich and meaningful resource. They will thank you.