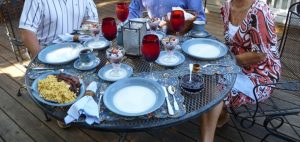 Weary of the way our culture wars are dividing us? Maybe you long to be used as a person of more influence for good right in your community. Perhaps you've often thought about reaching out to people in your neighborhood and building more bridges of friendship. Maybe you long to share the good news of forgiveness and hope in Jesus but you find yourself stuck in your Christian bubble.
With the warmer spring weather and a little creativity we can take practical steps in our own homes and neighborhoods to build relationships up in a world that tends to tear them down. Whether it's casual and messy or organized and lovely we can shift our focus away from the macro problems to micro solutions. Here are 20 suggestions to stir the pot and help you think more intentionally about doing something good. Taking a little risk:
1. Stay outside in the front yard longer, sit on the porch, let the kids play. Maybe even invite passersby to stop for a snack or refreshment.
2. Throw some shrimp on the barbie and have people over. Or grill hamburgers. For something new, Google a different recipe. Or, rather than lunch or dinner, invite others over for brunch. Food shared within a circle of faces warms and disarms, gets below the surface and opens up discussions of deeper thoughts and needs.
3. Pray that God would enlarge your heart for these relationships, that you would see people as the Lord Jesus sees them. That he would give you the strength (and sometimes the courage) to move beyond the default to TV and social media to connect with real people.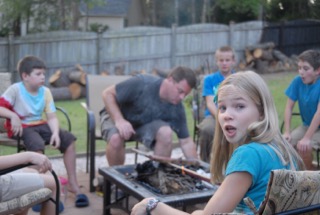 4. If the nights are cool enough, gather around the fire pit and roast marshmallows to go on graham crackers decked with Reese's peanut butter cups.
5. Walk your dog in the evenings; pray for divine appointments.
6. Bake some fresh bread, cookies, brownies, etc. and pass out to the neighbors.
7. Join a reading group at your local library. Or start a summer book club in your neighborhood.
8. Attend the home owners meetings and parties you are invited to by your neighbors.
9. Do a food drive for your favorite local charity or shelter and get neighbors involved. If your church is going to help flood or tornado victims invite them to be involved as well.
10. Host a movie night and discussion in your home. (If you select the "media" button on the menu on my homepage it will pull up several reviews of movies with an intriguing spiritual dimension.)
11. Discover if your local literary film theater hosts a discussion group and join in. Or, build friendships with others who enjoy film by selecting a film once a month and gathering afterwards for discussion.
12. Host a game night (yard games outside, board games inside). Our favorite new game is Qwirkle. Fairly easy to learn, but grows more challenging the longer you play and the more possible combinations there are to play.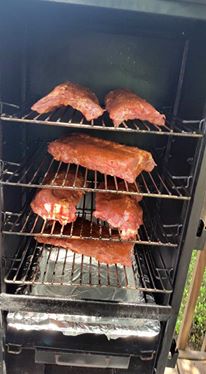 13. Host a Friday night BBQ or invest a little in a smoker with several shelves that can be filled with brisket, pork butt, ribs and/or sausage. Jack bought ours at Loew's and it is always a huge hit. Don't know too much about smoking meat? Simply Google your questions and find plenty of recipes and suggestions.13. Host an art swap night – bring out what you're tired of and trade with neighbors.
14. Grow a garden to build bridges. Give away flowers and produce.
15. Organize and host a ladies artistic creation night. Clear your table and provide some fun background music.
16. Organize a tasting tour on your street where everyone sets up food on a serving table on the front porch or driveway. Chairs are optional.
17. Start a walking/running group in the neighborhood.
18. Host a weekly play date for stay at home parents.
19. Host a front yard ice cream party. Share your favorite recipe and invite others to bring theirs.
20. Create a block/street email and phone contact list for all the neighbors.
The possibilities are limitless. Please share your own suggestions in the comments sections below. Open the doors of your heart and your home and see what God will do.