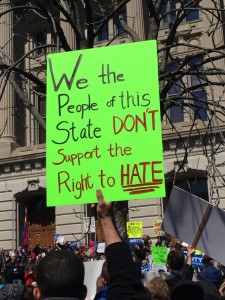 Suppose you are an Indian who runs a vegan café in Indiana. (You are Jainist and your faith opposes the taking of animal life.) And suppose a customer wants you to cater their wedding with your amazing vegan creations, but please, just put some chicken wings on the side for non-vegans.
If you refuse this service should the offended customer (backed by the NRA, Ducks Unlimited and the force of government) see you have to shut down your café and lose your livelihood because of the heavy fines imposed? Would it make sense to justify this because you clearly "hate" and are prejudiced against meat-eaters?
Do you really want the government to force you to violate your core beliefs? This is the question at the heart of the intense debate in the wake of this past weekend's social media campaign as well as last summer's Hobby Lobby Supreme Court decision.
On Sunday, April 19th, Pepperdine University Law Professor Robert Cochran will present an evening conversation in Columbia, SC: The Hobby Lobby Decision and the Future of Religious Liberty. Read more.
---
And here is the rock-bottom truth lost in the media frenzy: 
The Indiana law doesn't say anything @ gays and lesbians. 
It says that if the government is going to force people to violate their core beliefs they should have a good reason. Otherwise they should leave them alone.
The law sets up a test for what makes for a good reason. The courts decide.
To further explain this conflict so hurtful to so many I'm honored that Daniel Blomberg has agreed to answer some key questions. Daniel grew up here in Columbia and graduated from the University of South Carolina Law School magna cum laude. He is legal counsel for the Becket Fund for Religious Liberty and clerked for the Sixth Circuit U.S. Court of Appeals.
1. Daniel, what was your role in the Hobby Lobby case?