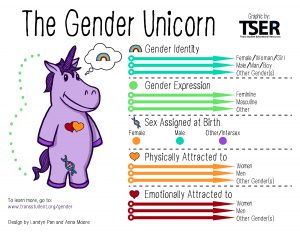 Last week I posted about Charlotte, NC teachers being encouraged to use the Gender Unicorn to explain to students how the sex you are "assigned at birth" may be different from your gender. And how every night, as we watched the Olympic Games, we all experienced a reality check: the obvious biological differences between male and female athletes.
This week a new scientific study, "Sex and Gender: Findings from the Biological, Psychological and Social Sciences," published in The New Atlantis journal, offers findings that challenge LBGTQ orthodoxy:
You are not born gay. Nor is your sexual orientation unchangeable over a lifetime.
Most young people (70-80%) who have opposite-sex feelings and sensibilities will eventually grow out of them.
LGBTs have a higher risk of poor physical and mental health than heterosexuals, including:
Non-heterosexuals are at double the risk of depression.
Trans people are ten times more likely to commit suicide.
Stigma and prejudice do not completely account for these differences.
These conclusions were published Monday and they are being universally ignored by the mainstream media. I find this incredible. Not even Fox News is reporting the story.
The Gender Unicorn, produced by LBGTQ student activists, is gaining credibility in our schools while a scientific study that challenges it, authored by two well-credentialed Johns Hopkins scientists, is being ignored.
Why does this study matter so much for all of us?