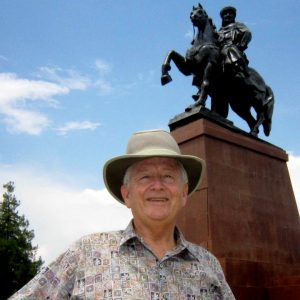 The only way to get to San Rafael Pie de la Cuesta is to drive down a dry riverbed.  We bounced so much down the boulders in outback Guatemala that I arrived brain-rattled and bruised.
On a missions training trip, we had come with our new friends Harry and Patty Larson to encourage and equip the leaders of a small church there. Together with their young son Peter the five of us bedded down in a tiny room off the back of the church, "air conditioned" by a 12-inch gap between the walls and ceiling.
Lying there in the dark we could hear the soft flapping of something swooping through the gap, in and out of our room. Unsettled, I asked, "What is that?" From his bed Harry began singing in a perfect Sesame Street Transylvanian accent, "One bat hanging in the steeple, One bat flies in through the door…." Patty chimed in, "That makes two bats in my belfry, Wonderful!"
We giggled at The Count's perfect tribute to our adventure and drifted off to sleep. I was awakened by dogs barking and a rooster crowing. In the middle of the night. And then the bed started to shake.
"Jack," I half-whispered, "what is that?"
"It's just a big truck going down the street." And he rolled over.
As if a big truck could have made it down that riverbed.
The shaking grew worse. And worse. Earthquake!!
I sat bolt upright. "What do I do?!"
Harry responded, "It's ok. You're ok!"
The shaking grew worse.
"What do I do?!!"