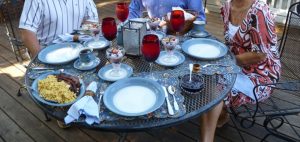 Weary of the way our culture wars are dividing us? Maybe you long to be used as a person of more influence for good right in your community. Perhaps you've often thought about reaching out to people in your neighborhood and building more bridges of friendship. Maybe you long to share the good news of forgiveness and hope in Jesus but you find yourself stuck in your Christian bubble.
With the warmer spring weather and a little creativity we can take practical steps in our own homes and neighborhoods to build relationships up in a world that tends to tear them down. Whether it's casual and messy or organized and lovely we can shift our focus away from the macro problems to micro solutions. Here are 20 suggestions to stir the pot and help you think more intentionally about doing something good. Taking a little risk:
1. Stay outside in the front yard longer, sit on the porch, let the kids play. Maybe even invite passersby to stop for a snack or refreshment.
2. Throw some shrimp on the barbie and have people over. Or grill hamburgers. For something new, Google a different recipe. Or, rather than lunch or dinner, invite others over for brunch. Food shared within a circle of faces warms and disarms, gets below the surface and opens up discussions of deeper thoughts and needs.
3. Pray that God would enlarge your heart for these relationships, that you would see people as the Lord Jesus sees them. That he would give you the strength (and sometimes the courage) to move beyond the default to TV and social media to connect with real people.