Planned Parenthood supporters are leaning on congress and the media to kill the story of what's really going on inside America's abortion trade.  Reminds me of how England's  slave ship owners did *not* want the Brits to see what went on inside the slave ships. We are living in Wilberforce times, no?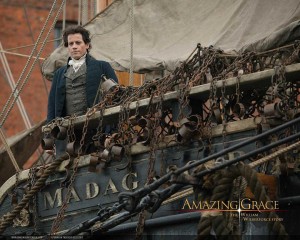 William Wilberforce was the British Member of Parliament who led the fight to abolish the slave trade. If you haven't seen Amazing Grace, the 2006 movie about that struggle, now would be a good time. Especially to see the scene where Wilberforce has arranged for a pleasure cruise of British lords and ladies to pass by the moored slave ship Madagascar. Watch them recoil at the chains and manacles draped across the stern that had recently bound its human cargo. Imagine the stench as they hold their noses.
Ioan Griffudd as Wilberforce calls out from above the manacles, "I want you to remember that smell… remember the Madagascar… remember, God made men equal."
Wilberforce and his friends in Clapham Circle feel compelled by their love for God and each person he created to not just tell but show the truth about slavery. Thanks to them and the encouragement of Prime Minister William Pitt (played by Benedict Cumberbatch), eventually things change. But only as the public becomes more and more aware of the abominations that are out of sight/out of mind.
In addition to the PP supporters who want to keep hiding the truth from public outrage and legal investigation, I've heard too many  conservative newscasters and friends say they do not recommend watching the Planned Parenthood videos because they're too graphic. Please don't follow their advice. Here's why…