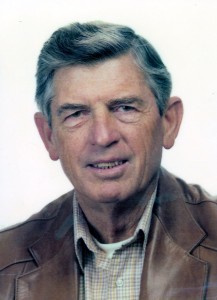 My Dad died in June. Jack's Dad died last Tuesday. Monday evening we receive a call: He's been feeling bad for three days and finally consented to go to the hospital. Monday night we receive another call: He's in ICU. At 4:30 am we receive another call: He's gone. Just like that. Irrevocably. Permanently.
We will fly to Dallas for the funeral. We will walk in the door, but there will be no hearty hello hug. No booming voice asking, "What's up, hoss?" No great presence filling the room, enthroned in his recliner, a book in his hands and one eye on the TV. No one will want to sit in that empty chair.
Jack's Dad was a fair minded, honest, no nonsense type of man. We will always remember him for his many Dadisms, such as, "You are the only one who can ruin your day." You can read his obituary and see the visitation slide show here.
As Jack and I processed the news on that still-dark Tuesday morning we were overwhelmed with gratitude. God had given us a priceless gift: time together. Although we lived 1,800 miles away, we had spent the previous Tuesday with his folks. And the Wednesday before that.