In today's culture it is rare to live our lives in a community where our great grand-parents on both sides lived, served and loved.  A recent visit to our roots in Paris, Texas challenged me to consider what we're missing…and what we've gained.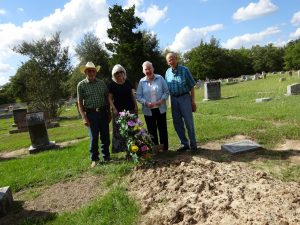 When my Mom's cousin was diagnosed with an aggressive form of dementia in January, Mom intended to go visit her. But Sarah died in July, before Mom, at 84, could arrange the trip.  Last week, when I took her to visit her cousin's grave, they told us that 500 people had showed up for the visitation for Sarah, a 5th grade teacher and tour guide. It had stretched out the door and around the block of the Victorian funeral home in Paris, Texas.
Not many of us live our lives like Sarah, dying in the community where we've loved and served and our family goes back for generations.  Instead of deep roots and strong branches, our families are more like dandelions–spreading seeds across a windblown landscape. My Dad's family is from Quebec and up-state New York. I was born in Houston, Texas. Moved to Austin to attend college, then to Dallas to begin my teaching career.