On Sunday night Meryl Streep disappointed millions when she used her professional platform at the Golden Globes awards show to hammer Donald Trump and drive a bigger wedge between deeply divided Americans.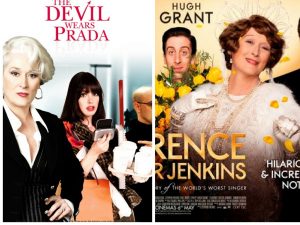 Full disclosure: I have been a solid Meryl Streep fan for years. Any actor who can play "the devil" wearing Prada and a no-talent, deluded socialite in Florence Foster Jenkins displays a tremendous range. (I reviewed her "formidable talent" in Florence here.)
The thing is, I get her critical remarks about President-elect Donald Trump. Although I think she chose the wrong example. Trump's attack on a disabled reporter is in deep dispute. However there are plenty of other examples that aren't. I've posted about how his philosophy of hitting back twice as hard comes off as alienating. Even bullying. It opens him up to people believing Streep's version of what happened.
Streep said, "And this instinct to humiliate, when it's modeled by someone [Donald Trump] in the public platform, by someone powerful, it filters down into everybody's life, because it kinda gives permission for other people to do the same thing. Disrespect invites disrespect, violence incites violence. And when the powerful use their position to bully others, we all lose…"
Just when she could have had me, she lost me. In a great ironic turn, Streep did the very thing for which she criticized Trump. She used the power of her position to dump a big dose of disrespect on millions of Americans.