My publisher, Crossway Books, has given me a beautiful book of the Masonite drawings by Robert Doares picturing the life of Christ, Immanuel, God with Us. The originals hung in the Billy Graham Center Museum at Wheaton College, wide-angle compositions and sweeping vistas fifteen inches high and four feet across.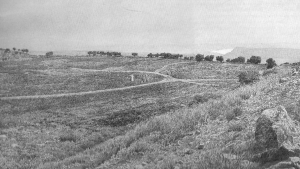 Before and after Easter, I lay the book out on my entry hall table, turning a page each day and letting the pictures take my imagination across two millennia, back to Jerusalem and Galilee.
In one of the final double-spread pictures, several paths converge on the top of a small mountain in Galilee. From the artist's helicopter view, a lofty cloudbank rises toward the northwest where the gospel would spread (too wide to be included in this picture).
A small robed figure thrusts one arm toward those distant lands, directing the gaze of eleven men seated in a half circle before him. The Scripture underneath the picture is Christ's commission to go out and invite others to follow him (Matt. 28:19-20).
As I walked by the table yesterday, I looked at that tiny group sitting in the curve of a path across a broad stony terrace in the sweeping landscape. The sheer measure of Jesus' invitation stopped me cold. Eleven men are invited to change…everything?
All those miles and miles and city after city? How do you imagine a church? How you imagine missions? How do you take what Christ said and did and roll it out to a world that has never heard of Jesus of Nazareth, or the God of Abraham, or a church?
And then in the next breath he leaves. Jesus loved them and blessed them and promises he will be with them, and they are left with his invisible presence and power to figure it out–just as we are. The invitation and the potential seem overwhelmingly large. But they did it.
They dreamed God's dream. They imagined God's kingdom—the extension of his rule in heart after heart, city after city, millennia after millennia. The joy, the challenge, the victories and agonizing setbacks were theirs.
We can trace the majesty of every cross on every steeple, every Bach fugue on a soaring pipe organ, all the missionary outposts and hospitals, every stadium packed with tens of thousands of people listening to Billy Graham, even Larry the Veggie Tales cucumber—all of it leads straight back to that little half circle of men staring up into an empty sky and wondering, What do we do now?
Not that they soon gathered to pray and strategize how to take the gospel into those northwestern lands. It took severe persecution to eventually move them out of Jerusalem and into the great commission.
What about us? Christ is risen! He is risen indeed! What do we do now? If you're like me you want to share the good news that Jesus is alive. You want to be fruitful in sharing his love with the gifts and talents you've been given. It's challenging in today's culture. Maybe, like me, you need some fresh inspiration on how to move forward.
As I reread Jesus' final words to his disciples the last evening they were together I was struck by how many times he said, "Just ask me."
John 14:13-14 Whatever you ask in my name, this I will do, that the Father may be glorified in the Son. If you ask me anything in my name, I will do it.
John 15:7 If you abide in me, and my words abide in you, ask whatever you wish, and it will be done for you.
John 15:16 16 You did not choose me, but I chose you and appointed you that you should go and bear fruit and that your fruit should abide, so that whatever you ask the Father in my name, he may give it to you.
John 16:23-24 Truly, truly, I say to you, whatever you ask of the Father in my name, he will give it to you. Until now you have asked nothing in my name. Ask, and you will receive, that your joy may be full.
Do we want to love and serve and share the gospel well? We can start by simply asking Jesus, "What do we do now?"
I remember how, a few summers ago, our outreach team felt really flummoxed about how to move forward. It just didn't seem like the event-based approach we had been pursuing was all that fruitful in reaching out. We thought about a service-based approach but had no clue what that would look like. So we began meeting and praying. Just asking.
Eventually we came up with the idea of taking a church survey. What kinds of service opportunities were the people in our church interested in doing? We took a second survey to help narrow the options. We devised a plan to pursue the top vote getters at quarterly "Saturdays of Service." (I described one here.)
Although we did not have a clue how to begin, although we had no larger strategic plan, God was so faithful to show us the next step. And then the next. That is so often how he works. We can't see the end from the beginning like he does. We just see enough to take one step.
A friend who has longed to break out of the "church bubble" and build relationships with outsiders has experienced a similar unfolding of opportunity. For months she began to earnestly pray that the Lord would open those doors of connection.
One day she stopped to check on a woman who had pulled into our church parking lot to make a phone call. Through that encounter, just by slowing down enough to notice as she drove by that the woman seemed upset and being willing to help, she found a new friend in great need. Her friend is not a Christian, but she is seeing the gospel lived out in my friend's life. Last week she visited our church.
As we enter a new week with resurrection joy in our hearts, maybe we're feeling like the disciples: What do we do now? Just ask. Be available and strategic. Take risks. Make the phone calls or take the action steps you've been thinking about but that are still on the back burner. Be on the lookout for answers to your prayers.
Go. Ask. I am with you always, even to the end of the age.