Until this election, I didn't fully appreciate your fears about climate change. About damaging our beautiful world beyond repair.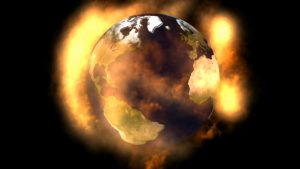 Now I've talked to enough friends and family to feel your frustration. Your deep concern. Even fear? And I am sorry.
For years I've heard many of you losing confidence in any larger story that explains how the world works and how we find hope for the future. I thought that meant that you had given up on any larger story. But I'm realizing you do have a larger story, at least many of you do.
I'm hearing so many voices united in real fear that our Earth is on its way to overheating and the end of civilization as we know it. It seems like you do believe in a larger story of saving the Earth, or at least our species. Working to reverse what you believe to be man-made climate change. Or finding a way to insure the survival of our species on Mars or another planet.
One voice driving this home is National Geographic's new series, Mars. Half of it is a fictional story about the first manned mission to Mars, the other half is a documentary about Space-Ex, the company that Elon Musk is building to ultimately transport a million people to colonize Mars. As Mr. Musk has told the New York Times, he wants to "make humanity a 'multiplanetary species' in order to ensure survival in case some calamity like an asteroid strike befell Earth." He really believes that Mars and exoplanets are our destiny if we are to survive the climate catastrophes ahead.
It's helping me understand the desperation that many of you feel. And I don't want to dismiss it.
Yet, this is where we realize again that we live in two radically different larger stories.
It may shock you to know I've never had a serious thought that man-made climate catastrophe will destroy our planet. Which makes it difficult to empathize. It's good to hear your concerns so I can understand your fears.
If you are wondering why…It's not that many Bible-believing Christians don't believe that climate catastrophes lie ahead. The biblical book of Revelation describes a future that will include famine, pestilence, and far greater calamities: "The first angel blew his trumpet, and there followed hail and fire, mixed with blood, and these were thrown upon the earth. And a third of the earth was burned up, and a third of the trees were burned up, and all green grass was burned up. The second angel blew his trumpet, and something like a great mountain, burning with fire, was thrown into the sea, and a third of the sea became blood." And it gets worse.
But we believe that the catastrophes that Revelation describes are part of God's final judgment when he will ultimately defeat evil and death. A prelude to a new creation of beauty and hope: Revelation 21:3-5
And I heard a loud voice from the throne saying, "Behold, the dwelling place of God is with man. He will dwell with them, and they will be his people, and God himself will be with them as their God. He will wipe away every tear from their eyes, and death shall be no more, neither shall there be mourning nor crying nor pain anymore, for the former things have passed away." And he who was seated on the throne said, "Behold, I am making all things new."
It's hard for many of us to imagine a future where ultimate hope is severely threatened. But we need to understand and give grace.
In this season of advent we look past the ancient predictions of calamity to celebrate that God will come for us. Just as Jesus came as Emanuel-God with us, dwelling among us, we believe he will return to create a new earth where he will dwell with us forever.
Just as we celebrate his first coming in a manger in Bethlehem, so we look forward to his second coming as King of Kings and Lord of Lords when he will make all things new and right. This is good news, "glad tidings for all people." A story to live in that gives us a future and great hope.
It is a call to fear him more than the predictions of climate catastrophe. And love him because he gave his life to save us from our sin and rebellion. Honestly, we wish you could share that hope, but we respect your beliefs.
In the meantime, like you, we want to be careful about being manipulated by those who might use climate predictions for an agenda. We may not share the intensity of your fears, but we share concerns about caring for this planet because we embrace our calling to be good stewards of God's beautifully created earth. We may not live as though everything depends on our efforts to sustain life here on Earth, but we care deeply about preserving life because all life is made in God's image.
Even though we may live in two very different larger stories, and believe in very different futures, we can be intentional about understanding each other's concerns and be sensitive to each other's fears. Next time I'll write about ours.
I welcome your response in the comment section below.