When we first signed up for the Christmas concerts at Billy Graham's Asheville, North Carolina retreat center, we expected a weekend of beauty and gorgeous music by some of the Kingdom's finest artists. What we didn't expect was how God used major disruption to turn one evening into a rare, deep worship event.
At Christmas time the whole place feels like a warm Christmas hug–fireplaces great and intimate, wreaths, garlands, trees and smack in the middle of it all a nativity scene with the Christmas spotlight right where it should be.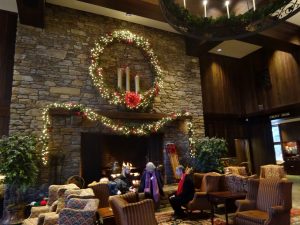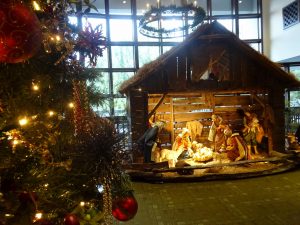 Each evening begins with a splendid dinner which might include encrusted prime rib with brie and cranberry bread pudding and chocolate peppermint cheesecake for dessert.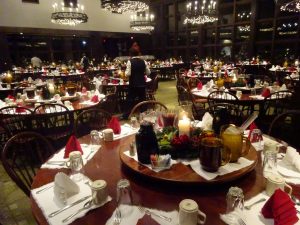 Our first evening concert featured Charles Billingsly, former lead singer for NewSong who leads worship at Thomas Road Baptist Church in Lynchburg, VA. Backed by a jazzy ensemble, Billingsly covered the best Christmas standards with  cool, powerful vocals and the timeless carols with heart-felt tenderness. He opened up about his kids and also shared the story of the day his wife met him at the door with a baby in each arm and told him it was either his career or them–a redemptive turning point for him.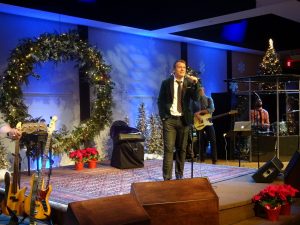 On the final night the eleven-piece Annie Moses Band filled the venue with orchestral arrangements of Christmas favorites punctuated by River Dancing fiddling "on steroids." The six Juliard-trained brothers and sisters comprise a string quartet plus piano, electric guitar and harp, and a little help from friends on bass, acoustic guitar and drums.
I actually had the presence of mind to push my movie button on my camera but the file is too big to post. Too bad. But they'll be performing at Riverland Hills Baptist in Irmo, SC on Feb 11th. You can find other tour dates here. I think you'll enjoy the way they pour amazing energy and deep tenderness into their unique blend of music.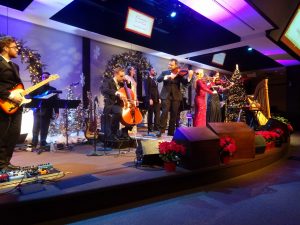 The best story of the weekend came on Friday night with Travis Cottrell, who leads worship for Beth Moore events and at a church in Jackson, MS. We were finishing our dinner thinking we were going to be a bit late to our concert seats when one of the attendants assured us we could slow down because his plane had just landed across town at the Asheville airport.
Although I've never cut it so close when I've flown to speak somewhere, I could deeply empathize with how wretched it would feel to know that while you were weaving through traffic there was an entire room full of people sitting…and…waiting. The artist arrived with no time for a sound check. He handed his CDs and set lists to the guys in the sound booth and took the stage praying for the best. I was praying with him.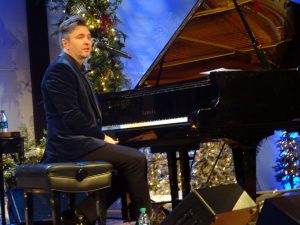 Cottrell kicked things off by singing to taped accompaniment tracks, never as strong as a live band. Add to that he seemed a bit rattled, like his brain was still zooming while he was trying to slow things down. He barely but surely missed a couple of high notes.  Things were not going as well as either of us hoped.
Sitting down to accompany himself on the piano seemed to settle him down. His rich, expressive voice climbed the opening minor scale of "Mary, did you know…?" and by the time he finished we had moved from observers to fellow-worshippers inside his world of adoration and praise.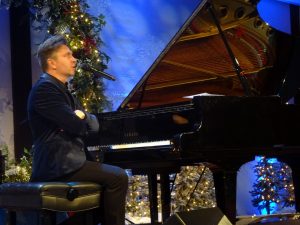 He opened up about his crazy trip to The Cove. He was flying to Asheville from Nashville. (could be a country song right there) It was getting so late that he knew he wouldn't have time for a sound check but he absolutely had to warm up his voice. So he went into the lavatory and closed the latch. He really needed to power up. Sing loud.
So he flushed the toilet and began. La-la-la-lah-la -la-lah. Up a step. La-la-la-lah-la-la-lah.
All was quiet. He needed more cover so he turned on the water in the sink. Which made absolutely no noise.
So he flushed the toilet again. La-la-la-lah-la-la-lah. Flush. Vocalize. Repeat. Flush. Vocalize. Repeat.
When he exited the flight attendant looked at him rather wide-eyed. "Sorry," he managed.
"You sure made a lot of noise in there," she said. Evidently it sounded good enough that she didn't call the air marshal.
Sharing his struggle opened a door inside his heart that invited us all in. He spoke more freely of his other struggles. Even his indecision in the moment of what to sing next.
He opened a piece of paper with words to a song that he didn't know well enough to sing by memory. A song that he had just written in Nashville with three collaborators, part of a Christmas Cantata for 2017. To the accompaniment of the freshly laid instrumental tracks he moved from the traditional words of "O Come Emanuel" to a description of our pain in the waiting–a lament as raw and real as my greatest sorrows, your greatest grief. Then back to the heart cry, "O Come, Emanuel!"
For the rest of the concert, the rest of the evening, he spoke and sang deep, deep words of encouragement and worship. I could print them here, but it couldn't convey the movement of God's Spirit in that place. In the midst of all Travis's struggle and disruption God poured his power and love into the ancient carols and new tunes. And the magnificent gift of worship that he had placed in Travis's heart ignited our hearts as well.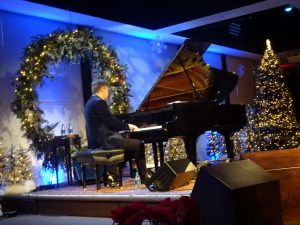 Three nights. Three concerts. Three artists who all worked so hard, like the little drummer boy, to play and sing their best for Him. And the musicianship and the beauty takes our breath away. Yet God uses the brokenness, the vulnerability, the great disruptions in our lives through which to do his deepest work.
Our part is to close the door, flush and vocalize. Keep taking the next step. Lean hard on the real presence of Jesus. Acknowledge our screw ups. Pray desperate prayers and launch into another song.
We may lose our reputations as consummate professionals.  But Emanuel may come to us. And we may lose ourselves, and everyone with us, in desperate, life-and-joy-giving worship.