You can feel the difference between Marco Rubio and Ted Cruz simply by walking into their rallies. In spite of the 35° raw drizzle, about 900 people are chanting, cheering and waving signs to the upbeat music, waiting for Rubio's bus to roll in.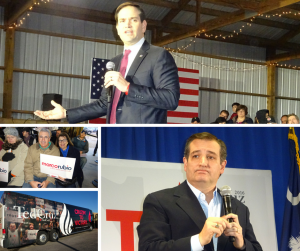 We can see our breath in the three-walled party barn.  Sleek, long-haired college interns in galoshes mix it up with all ages in the suburban Lexington venue.  The advance team has set up the stage in the round with bleachers on the two sides facing the bank of cameras in back.
The bus pulls up and Rubio bounds down the short walkway with US Representative Trey Gowdy (of the Benghazi hearings) and US Senator Tim Scott.
The three amigos wave and glad hand the crowd and each other as if they had just deboarded the charter to the big game, which it pretty much is.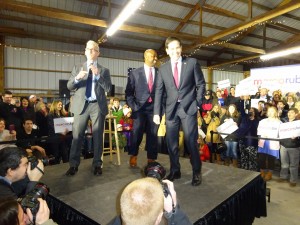 When Rubio takes the mic, rather than subside, the emotional intensity simply downshifts into a more serious gear as the young senator speaks in his trademark delivery–empathetic yet earnest with fairly rapid pace, few pauses, punctuated by occasional laugh lines about football and our intra-state rivalry. With an accessible depth of detail he describes the challenges we face and his plans for renewal and a "new American century."  He refrains from attacking the other candidates and comes off as a winsome, likable guy.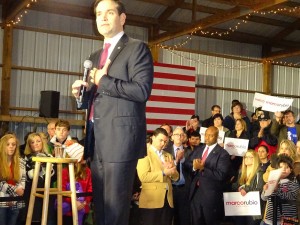 After his speech he takes three town hall questions, speaking as easily off the cuff as in his prepared remarks. We are disappointed that the Q/A is cut short to roll the bus to the next event, but glad to get out of the cold.
The Cruz Rally
The next afternoon I gather with about 600 others at a downtown rally where Ted Cruz rolls out his plans for rebuilding America's military and taking care of our veterans. We are greeted by an older crowd, about 20% military and veterans, who look like the kind of folks who would greet you at a conservative evangelical church. There is no music or cheering or chanting, but a palpable sense of anticipation fills the room. Up front a blue curtain backdrops a small stage flanked by two big-screen TVs.
In traditional, one-at-a-time succession, two decorated war heroes take the stage to warmly endorse Ted, followed by former Texas Governor Rick Perry.  Ted takes the stage in cowboy boots, jeans, white shirt and a navy blazer that project a kind of alpha cowboy persona. He points his finger often for emphasis (making quite a stacatto sound on the podium during debates).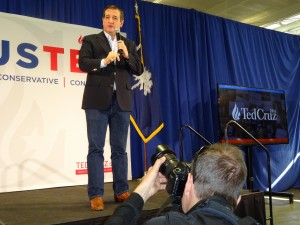 Ted's delivery is smooth and commanding, like Rubio's, with a good balance of depth and accessibility. But unlike Marco he speaks with more of a dramatic flair–using evocative word images and pausing frequently and longer for effect. Unfortunately, his voice has a strong nasal quality.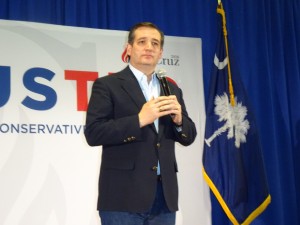 I find myself agreeing with about 99% of what Ted says until he states that in the most recent debate there were three candidates who approved drafting women into combat roles. This is a distortion of what they said. I heard the moderator ask Rubio if he approved requiring women to "register with the Selective Service." Rubio replied that he believed women should have the "right to sign up for Selective Service."
By the time of this rally Rubio had already clarified his position which he repeated to us at his rally the night before: he insisted that with a 16-year old daughter he was the candidate that felt most genuinely concerned that young women not be required to be drafted, especially into combat roles. Cruz had to know this. Yet he still repeated the deception. From the front row I shook my head at him.
This is the kind of "politics as usual" of which Americans are so weary. Some TV stations in South Carolina decided to pull Cruz ads from the air because they are so deceitful. And there are other echoes of what was done to Dr. Carson in Iowa. I'm glad he finally fired his communications director for spreading a false story of how Rubio insulted the Bible. But here he was spreading a false report of Rubio's position.
However, my decision to not vote for Ted Cruz isn't driven by the way he mishandles the facts. I've decided to vote for Marco Rubio because of what I understand about faith and culture.
Voting in Postmodern Times
In today's postmodern culture, more than ever before, people want leaders who resonate with their feelings. "He says what I feel," wrote a Christian voter for Trump.
We no longer live in the modern era where the main duty of leaders is to provide clarity and understanding of the issues with logic and reason and argument. We live in a time where a majority of people have become more feelers than thinkers. And they want their leaders to empathize.
This lesson was driven home to Queen Elizabeth II in the wake of the death of Princess Diana. It's the central drama in the movie The Queen. Prime Minister Tony Blair gets it and tries to gently coach the Queen through this fundamental difference between the modern and postmodern worldview as this movie trailer shows so well.
"Show us you care!"
This is the heart cry of today's electorate. To quote the 1976 movie Network, millions of Americans are "mad as hell and they're not going to take it any more." They want to vote for someone who resonates with their anger. Ben Carson believes that as the debate field narrows he'll have more time to get his message out. But he doesn't get it. Trump and Bernie and Cruz are currently riding this anger right up the polls.
Like Queen Elizabeth, the Democratic Party leaders who cleared the field for Hillary and the Republican party leaders who front-loaded all the money into Jeb Bush's candidacy missed it.  Even though both candidates are extremely experienced and incredibly well networked, neither has the genuine emotional intensity that seems to resonate broadly with today's voters. Compassionate Jeb looked like a teddy bear trying to be angry. Politically savvy Hillary keeps trying on personas and strategies that look increasingly inauthentic. Saturday Night Live nailed it:
Cruz resonates with the anger. At the rally he speaks of unleashing "America's holy wrath upon the psychotic maniacs of ISIS…Enough of patty-cake." He would end the military being a "cauldron of social experimentation." Again and again the audience responded with standing o's.
Voting as a Shrewd Thinker Rather Than a Frustrated Feeler
Rush Limbaugh has said that Ted Cruz is the truest conservative running for office since Ronald Reagan. Maybe. But what defined Reagan was not just his conservative ideals but his strength ("Mr. Gorbachev, tear down this wall.") drenched in optimism ("It's morning in America"). And kindness. He did not come across as angry, mean-spirited or divisive. It concerns me that not one single other sitting senator has endorsed Cruz for president, whereas a half a dozen have endorsed Rubio.
Even more importantly, while today's postmoderns want empathy, they are turned off by intolerance and divisiveness.
In his book unChristian David Kinnaman says, "The new generations are increasingly resistant to simplistic black-and-white views of the world. Nothing is simple. They esteem context, ambiguity, and tension. Often judgmental attitudes come across as overly simplified, old-fashioned, and out of step with their diverse world. With young people, how we communicate is as important as what we communicate [italics mine]."
We may be used to hearing the kind of red-meat language Cruz uses in our churches and Fox news, but it can sound too harsh and judgmental outside our Christian/conservative bubble.
In fact, when it comes to God talk or appealing directly to Christian conservative voters, recent election history shows that today's postmoderns don't want too much of it. They would elect a George W. Bush but not a Santorum or a Huckabee. There seems to be a kind of stained glass ceiling for evangelical candidates.
And this is what Rubio means, I think, when he says he can unite our party and win a general election.  You can't help but see it in the difference between the two candidate's rallies: Cruz brings in an older, whiter and more churched looking crowd. Marco's rally looks more broadly appealing and inclusive.
His emotional tone is intense and frustrated but he's not campaigning across the country with the kind of scorched-earth language and tone that wounds and offends. He is a rock-solid conservative who has voted against funding Planned Parenthood every time it's come up in the Senate. He has a sterling record of support for pro-life, traditional marriage and religious liberty. The debates have shown he has a deep grasp of national security issues.
And he's a winsome, likable guy. Ted Cruz has admitted he is not the kind of guy you might want to get a beer with, but he's the kind of guy who will drive you safely home afterwards.  Again, in today's culture likability is a huge factor. "Yuge."
Marco's faith is genuine, but he doesn't always lead with it like Ted does. In his farewell address to the Florida House of Representatives he talked about God this way:
God is real.
God is real.
I don't care what courts across this country say. I don't care what laws we pass. God is real.
God is not some old man with a big white beard that just kind of hovers over the world and makes us feel good from time to time. God is a real force of love.
Let me tell you what a real force of love.
He loves every human being on earth. Whether you are an embryo or behind bars. He doesn't care if you have a visa to behere legally in this country. He loves you.
He doesn't care-please don't take this wrong-he doesn't care if you committed the most heinous act that violated the laws of man. He loves you.
He doesn't care if you're so small you can't even see it but with a microscope. He loves you.
You have never met a human being that God does not love and you never, ever will. 
He recently responded to a question about faith here:
Transcript here
I have given up the early candidate of my heart, not Cruz I confess, to vote shrewd, vote for Rubio. I believe he can win in November. And the more I've watched him, the more he has become the candidate of my heart.
At this critical moment in the election, are you more concerned about who might be the ideal conservative? Are you more concerned about who might unite more people in our profoundly divided country and bring them together in November? You can't hurt my feelings. The outcome rests in loving hands. Grace and peace to all. I'd really like to hear from you in the comments below…